Meetings and event rentals
Manoir Papineau National Historic Site
Facility rental services
Service not available in 2022
Overlooking the Ottawa River and just a few steps from the Fairmont Le Château Montebello is an imposing manor house built in the mid 19th century by Louis-Joseph Papineau, renowned politician and "Seigneur de la Petite-Nation".
Open to the public by Parks Canada since 2001, this exceptional site and one of its outbuildings are available to rent for events such as cocktails, weddings or business meetings.
The Salon bleu
Amédée, the eldest son of Louis-Joseph Papineau, designed this addition to the manor. Once used by the Papineau family for private gatherings, this elegant room is the ideal setting for ceremonies, private meals, business meetings or cocktail events that can extend to the veranda when weather permits.
Maximum capacity: 20 to 40 people (according to the chosen configuration)
The family museum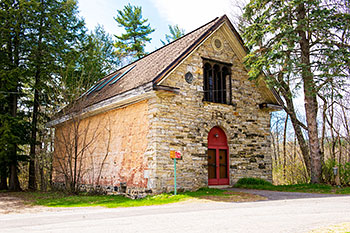 Built in 1880 at the urging of Amédée Papineau, this cabinet of curiosities included, until 1920, number of works of art and souvenirs brought over from Europe and Africa. Newly renovated, this large multifunctional room is perfect for press conferences, work meetings and banquets.
Maximum capacity: from 20 to 56 people (according to the chosen configuration)