Your perfect picnic
Cape Breton Highlands National Park
Our twist on "take-out"
Everything tastes better when you eat it outside!
So go ahead—let nature design your dining space. The highlands, beaches, lakes, waterfalls and forests set the scene—add yourself and bon appétit!
It's as easy as 1, 2, 3!
Place your order
Pick up your picnic tote
Find your perfect picnic place in Cape Breton Highlands National Park and enjoy!
---
Top 10 Perfect Picnic Places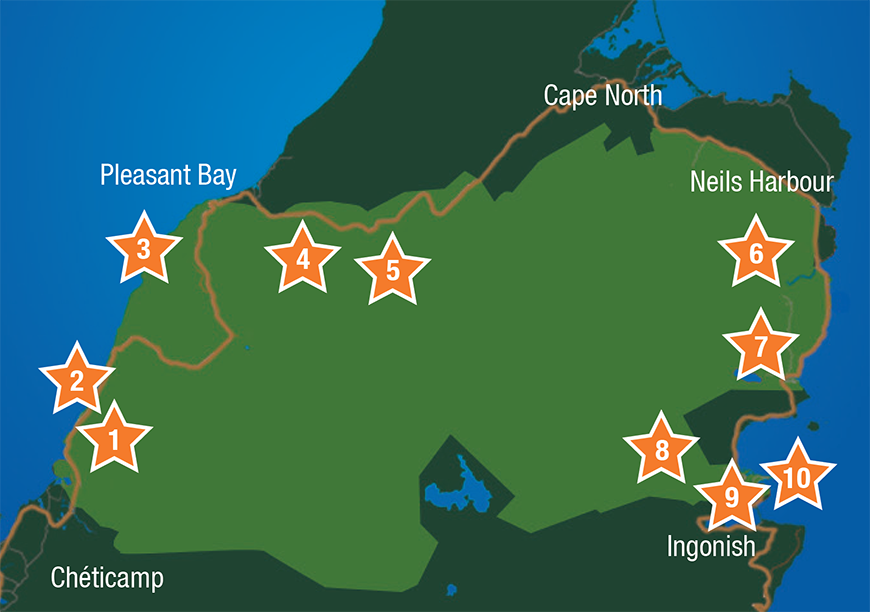 Le vieux chemin du Cap-Rouge
A five-minute climb brings you to a picturesque panorama
La Bloc
Let the ocean lap at your feet as you enjoy your picnic
Fishing Cove
A remote piece of paradise beckons you to visit and linger awhile as you dine outdoors
Grand Anse
Find a picnic table nestled in the shade of huge old-growth trees
MacIntosh Brook
A kitchen shelter, washrooms and a playground complement a peaceful trail leading to a beautiful waterfall
Mary Ann Falls
A thunderous spectacle to assuage the most thunderous appetite
Warren Lake
Birds serenade and mountains surround this lakeside picnic paradise
Top of Franey Mountain
Reward yourself with awesome views and a hearty snack at the end of your climb
Ingonish Beach
Spread a blanket in the sand or use a table by Freshwater Lake
Middle Head
Enjoy your picnic and the stunning scenery, surrounded by ocean on three sides
---

2022 Perfect Picnic Menus
---
Aucoin's Bakery
All picnics come with a salad with dressing, a piece of fruit, juice or water and a freshly baked dessert (choose from a cinnamon roll, a muffin, or a cookie).
A Piece of Meat Pie
An Acadian classic, made on site. Choose between chicken and pork, or beef and pork.
Sandwich
Made on a freshly baked Kaiser roll (white or whole wheat). Choose between egg salad, ham and cheese, turkey breast, roast beef, or smoked meat on rye.
Each meal: $15
Upgrade to croissant or glazed cinnamon roll: + $ 1
Picnic tote: $ 2.25

Optional:
Picnic blanket: + $20
Picnic basket: + $30
Pick up your picnic:
Aucoin's Bakery
14 La Pointe Road
Chéticamp
www.aucoinbakery.com
902-224-3220
---
The Bean Barn Café & Deli
All picnics come with a fresh fruit, a sweet and an oatcake from the bakery, and a bottle of water or juice. Produce proudly grown and sourced within Nova Scotia.
The Perfect Caesar Wrap
Romaine lettuce, fresh parmesan cheese, bacon bits and oven roasted chicken wrapped in a tomato basil wrap.
Vegan Picnic
A grazing box with fresh salad, guacamole, hummus, corn chips and veggies. Includes vegan chocolate cake and choice of non alcoholic beverage.
Charcuterie by the Sea for Two
A delicious assortment of berries, chocolate, meats, cheeses, crackers and sweet treats.
Include chilled Benjamin Bridge wine for two with any picnic basket at an additional charge.
Wrap: $25
Vegan Picnic: $22
Charcuterie: $40
Picnic tote: $ 2.25
Optional:
Picnic blanket: + $20
Picnic basket: + $30
Pick up your picnic:
The Bean Barn Café & Deli
36743 Cabot Trail
Ingonish
902-285-2767
---
Salty Rose's and the Periwinkle Café
All picnics are served with a sparkling beverage (San Pellegrino or Bubly) and a classic Cape Breton oat cake.
Deli Turkey Sandwich
Sliced deli turkey, tomatoes, greens, grainy mustard and house made mayonnaise on multigrain bread.
Smoked Meat Sandwich
Shaved smoked beef, sauerkraut, greens, yellow mustard and house made mayonnaise on rye bread.
Hummus and Veggie Sandwich
House-made hummus with shredded carrot, cucumber, pickled onions, greens, olive oil and garlic balsamic dressing on oatmeal brown bread.
Feature! Local Snow Crab Sandwich
Delicate Cape Breton snow crab mixed with house made mayonnaise, chives and greens on oatmeal brown bread.
Gluten Free Options (quinoa bread or sandwich as a salad and baked good substitution) available for additional charge.
Each meal: $18.75
Crab sandwich: + $ 13.50
Picnic tote: $ 2.25

Optional:
Picnic blanket: + $20
Picnic basket: + $30
Pick up your picnic:
Salty Rose's and the Periwinkle Café
36056 Cabot Trail
Ingonish
902-292-0830
---
Share your perfect spot with us
902-224-2306
pc.cbhinfo.pc@canada.ca

facebook.com/CBHNP
twitter.com/ParksCanada_NS
#PerfectPicnic