Snowshoeing
Cape Breton Highlands National Park
Snowshoeing
---
Canada's national parks are gateways to discovering and connecting with nature, and Cape Breton Highlands National Park is no exception. Winter can be quite magical and snowshoeing offers a way to discover Cape Breton Highlands National Park with the whole family. Take in peaceful nature, enjoy bird watching and stunning snowy landscapes. Keep in mind services are limited during the winter and to plan ahead.
Snowshoe Rentals
Snowshoes are available for rent from the Ingonish Visitor Centre. Email cbinfo@pc.gc.ca at least 24 hours in advance to reserve gear.
Daily snowshoe rentals must be returned before 4:00 pm, the same day. Weekend snowshoe rentals can be picked up on Friday before 4:00 pm and returned on Sunday at the same time. Rental includes snowshoes, walking sticks, and a carrying strap. The Ingonish Visitor Centre carries snowshoes for children aged four and up, and adults.
Rates
Where to snowshoe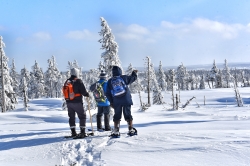 Some great snowshoeing spots near the Ingonish Visitor Centre include:
Ask the Visitor Centre staff for recommendations when you pick up your gear!
Winter services
Services throughout Cape Breton Highlands National Park are limited during the winter. Trails are not maintained and snow clearing priority goes to maintaining access to the Cabot Trail highway. Visitors should be aware that trail parking lots may not be plowed directly following large snowfalls. Please check road conditions before you head out: https://511.novascotia.ca/en/index.html. Beautiful views and winter wildlife are plentiful. Please drive with care. Thank you!
Safety
To make the most of the magic of winter, it is important to plan ahead and prepare for the weather. Winter essentials include lots of snacks and drinking water, as well as plenty of layers of clothing.
Trails are not maintained during the winter in Cape Breton Highlands National Park.
Visitors are reminded that dogs must be on leash at all times in the national park.
There are no visitor services in the park during the winter months. Be sure to check road condition reports in advance and check our social media pages for updates. Cell phone coverage is not reliable in more remote areas of the park.
Be prepared for sudden changes in weather conditions, especially along the coast and on the plateau. Be aware of windy conditions while on the trails, as snow build-up can cover your tracks and make it more difficult for you to get to your destination.
Visitor washrooms are available at the Ingonish Visitor Centre when picking up your gear and pit privies along the trails can be used (may become inaccessible after heavy snowfalls). Visitor washrooms are also available at the Chéticamp Visitor Centre.
Expect Cape Breton hospitality in the communities along the Cabot Trail, where visitors are welcomed year-round to experience the local Acadian, Gaelic and Mi'kmaq cultures. Keep in mind, however, that many businesses are seasonal. Be sure to book your accommodation in advance and call to find out the hours of operation of restaurants and other services, as options may be limited in the winter.
The priority for snow removal is the Cabot Trail highway, so trail parking lots may not be cleared immediately after heavy snowfalls.
Never feed or follow wildlife.
If you see tracks, do not follow them toward the animal.
If you see an animal, give it lots of space and observe from a distance with binoculars or a telephoto lens.
Never feed wildlife.
Recommended packing list
Trail guide and map
Full water bottle or thermos
High energy food
Sunscreen and sunglasses
First aid kit
Repair kit
Lightweight emergency blanket, candle and lighter or waterproof matches
Headlamp or flashlight with spare batteries
Toque or winter hat and gloves
Hand and toe warmers
Extra clothing that would keep you warm should you stop in case of an emergency
Carry a cell phone or satellite communication device appropriate for the area you will be visiting.