How to Get There
Tuktut Nogait National Park
Visitor looking through binoculars
© Parks Canada
Accessing the Park
Inuvik is the largest community in the region and is serviced daily by scheduled aircraft from southern Canada. Aklak Air is presently the only scheduled aircraft carrier serving the community of Paulatuk. Scheduled flights between Inuvik and Paulatuk are currently on Tuesday, Wednesday and Friday. Schedules may be subject to change. There are no roads or trails leading directly to Tuktut Nogait from Paulatuk.
Accessing the park by land
Tuktut Nogait National Park is bordered on the north and west by privately-owned Inuvialuit lands. Visitors entering the park overland from the north or the west must cross these lands. Visitors crossing Inuvialuit lands are welcomed by the Inuvialuit, provided that they treat the lands with respect and that they do not interfere with Inuvialuit use and enjoyment of the lands. Visitors planning to fish on Inuvialuit lands must first register with the Paulatuk Hunters and Trappers Committee (PHTC) (http://www.pc.gc.ca/eng/pn-np/nt/tuktutnogait/visit/tourism.aspx).
The Hornaday River is a scenic and helpful navigation aid for visitors accessing Tuktut Nogait by land. The Hornaday River delta is 15 kilometres by land from Paulatuk. Visitors can follow the west bank of the Hornaday River for approximately 40 km to the boundary of Tuktut Nogait where they can enter the park.
Contact the Parks Canada office in Inuvik for assistance with land travel options.
Accessing the park by water
The coastline of Darnley Bay in the Amundsen Gulf is an attractive starting point for many visitors wishing to hike into Tuktut Nogait, particularly the Brock and Hornaday River Deltas. Boat shuttle services are periodically offered by local operators to carry visitors between Paulatuk and the coastal shores to the northwest of the park. Contact the Paulatuk Hunters and Trappers Committee for assistance with boat shuttle options.
Paulatuk HTC
(867) 580 3004
paulatukhtc@gmail.com
Accessing the park by air
There are no ground based landing-strips, only water based landings are permitted in Tuktut Nogait. Known water base landings include, but are not limited to: Uyarsivik Lake/ Cache Lake, Canoe Lake, Long Lake, One Island Lake, Seven Island Lake, Akluk Lake, Brock Headwater Lakes and Hornaday Lake. Charter aircraft may be arranged from Norman Wells and sometimes Inuvik.
A free Parks Canada Aircraft Landing Permit will be issued when you register with Parks Canada. Aircraft charter companies will ask for your landing permit before leaving. It is an offense under the Canada National Parks Act to land a plane without a permit or to operate an aircraft charter company without a current National Parks Business License for Tuktut Nogait National Park.
AIRCRAFT COST SHARING LIST
Most access to Tuktut Nogait National Park is by charter aircraft. As this can be very costly, most groups try to split their charters with other groups traveling to and from Tuktut Nogait National Park. If your dates are flexible and you would like to try to cost share, Parks Canada keeps a list of people who are interested in sharing or splitting charters.
It is the responsibility of individuals or groups using the list to contact each other and make any arrangements. Parks Canada bears no responsibility for the outcome of cost-sharing arrangements that are made through this list. If this would be of interest, please contact the Parks Canada office in Inuvik.
Map of Tuktut Nogait and Region
© Parks Canada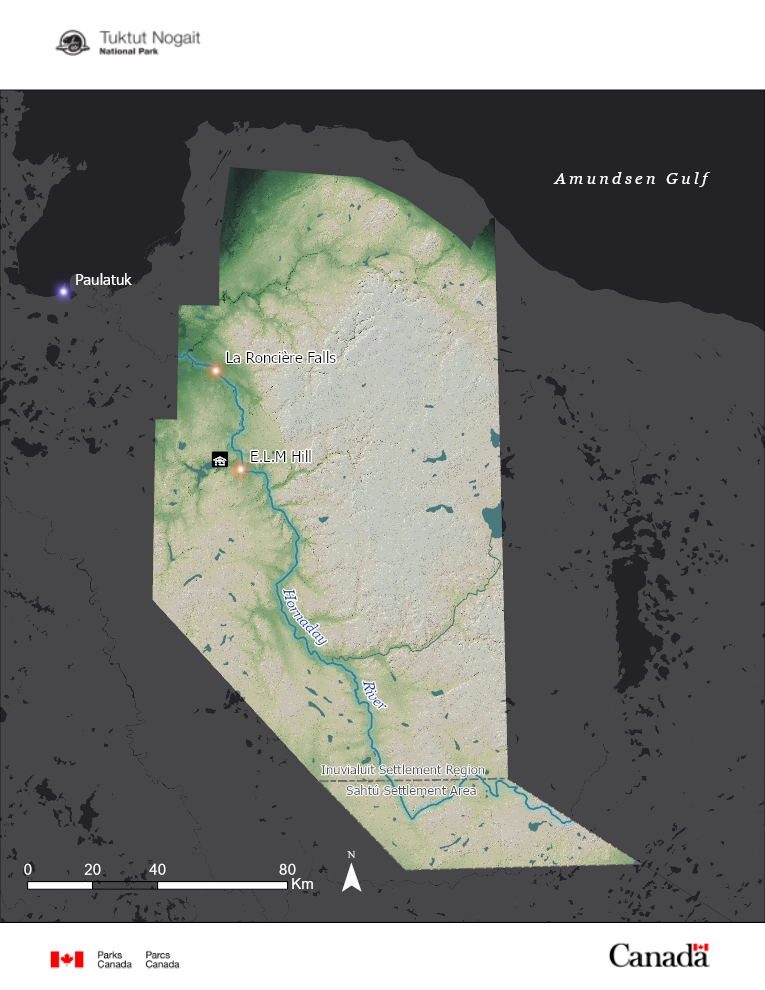 Map of Tuktut Nogait
© Parks Canada