Winter trail
Chambly Canal National Historic Site
With the arrival of spring comes the end of grooming operations on the path. Some sections may be icy, snowy or flooded due to changing weather conditions. Please be careful!
Chambly Canal Winter Trail conditions:
Trail conditions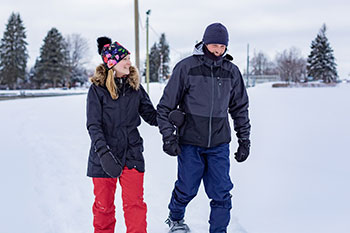 Winter sports are at the forefront at the Chambly Canal; Parks Canada is proud to launch a winter trail this winter along the waterway.
A 20-km winter trail extending from the parc des Ateliers in Chambly to the old Saint-Jean-sur-Richelieu enables young and old to enjoy winter's pleasures in the enchanting setting of the Chambly Canal.
This winter will allow many more Canadians to take advantage of the exceptional features offered by the Chambly Canal National Historic Site in the heart of the Richelieu Valley.
---
Chambly Canal Winter Trail Map
To view the access points, washroom locations and the route, take a look at the winter trail map.
---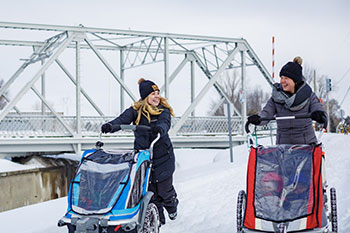 Trail etiquette
Thank you for respecting our trail and keeping it safe so that everyone can fully enjoy it.
Check the weather conditions before departing
Dogs must be leashed at all times
Pack out all your garbage
Keep a safe distance from the maintenance vehicule and other users
Parks Canada wishes to remind everyone that for safety reasons, it is forbidden at any time to venture onto the ice of the Chambly Canal.
Grooming guidelines
Start of season
Grooming will start as soon as weather conditions permit.
Needed conditions include:
Ground is frozen
Sufficient snow on the ground (*the required thickness varies depending on the terrain and type of snow
Favourable weather forecast
The snow is compacted until the base is in place (15 to 30 cm of packed snow, depending on the ground surface).
End of season
Ski trails are maintained until the end of March, or as weather and snow conditions permit.
---
Temperature has a large impact on snow conditions, grooming quality and our ability to groom. Warm wet snow can be very challenging and hard on equipment and, if followed by a cold spell, the resulting icy surface can be dangerous. In extreme cold, snow does not pack well and can pose a safety concern for groomers.
Temperatures

| Temperature range | Impact |
| --- | --- |
| > 5°C | No damage. The equipment is very likely to become bogged down and damage the track, which will likely be strewn with large chunks of snow and poor quality ripples. |
| 5 to 0 °C | Grooming is avoided when possible. |
| 0 to -10 °C | Generally, best temperature range for good packing and grooming results. |
| -10 to -20 °C | Quality of snow packing and grooming declines; safety risk from temperature and windchill increases. |
| -20 to -25 °C | Poor grooming results. Compacting is possible, track-setting is not. For safety, staff time spent in these temperatures is limited. |
| < - 25°C | No grooming to take place: grooming results are too poor, machinery malfunctions, and safety concerns from cold temperatures. |
---
Emergencies
If you are calling for assistance using a cell, call 911.
Questions and comments
514-283-6054
Email