Winter activities
Chilkoot Trail National Historic Site
Log Cabin | Cross Country Skiing | Backcountry Skiing and Snowboarding | Snowmobiling | Snowshoeing | Dog Sledding | Winter Camping | Ice Fishing
---
Log Cabin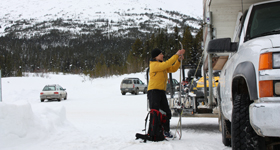 The Log Cabin parking lot is the most common staging area for winter activities in Chilkoot Trail National Historic Site. Site maintenance and upkeep are limited. Please help by doing your part to help keep the site clean.
The parking lot may not always be cleared after heavy snowfalls and may drift in with high winds – please be patient, and do not park on the highway. A big thank you to Yukon Highways staff who plow on behalf of Parks Canada as other priority areas permit.
Outhouses are available year-round. Toilet paper is not necessarily stocked.
Pack out all garbage.
Camping and fires are permitted between December 1 and May 15 annually, but only within that timeframe and if authorizations are in place.
Fires must be contained within a fire pan or drum. Users must bring their own wood, and cold ash must be disposed of appropriately (preferably at home and not in outhouses or on-site).
Open fires are prohibited at all other locations within the National Historic Site. It is illegal to cut/gather firewood within the National Historic Site.
Cross Country Skiing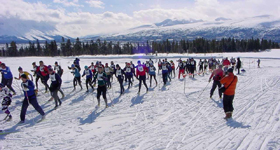 The Log Cabin parking lot is an excellent starting point for cross country skiing in the White Pass area. The Father Mouchet/Buckwheat Ski Trails, home to the annual Buckwheat Ski race, and outside the boundaries of the national historic site, begin across the tracks from the Log Cabin parking lot. Cross country skiers may also follow the White Pass & Yukon Route right of way towards Bennett.
Backcountry Skiing and Snowboarding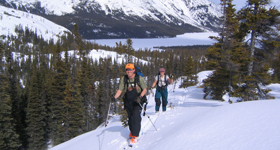 Log Cabin Mountain is the most popular area within the national historic site for alpine touring, telemark skiing and backcountry snowboarding. Most skiers follow the site boundary cut-line directly through the trees above the parking lot.
The terrain on the lower third of the mountain is generally low angled (<15 degrees), with gladed trees and open meadows. Above treeline the terrain steepens. This is avalanche terrain. Parks Canada has rated Log Cabin Mountain using the Avalanche Terrain Evaluation Scale.
Snowmobiling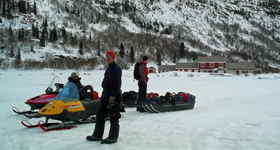 The Log Cabin parking lot is a popular staging area for snowmobile enthusiasts. The Non-Motorized Weekend Schedule designates periods of prohibited snowmobile use.
Restricted Activity Areas are also in effect at Bennett and Lindeman to protect historic resources. Snowmobiling and random camping are not allowed in these areas. Please be respectful of other visitors:
Travel at reasonable speeds in high use areas
Reduce speed when approaching skiers and snowshoers
Yield right of way to dog teams
Do not cross above others traveling in avalanche terrain.
Snowshoeing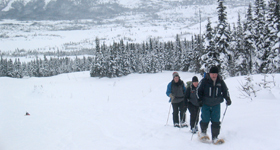 Snowshoeing is also a popular pastime. If you are following the ski trails, please avoid skiers' tracks, by walking to the side or setting off on your own trail.
Dog Sledding
Dog sleds may be used for day trips or overnight stays in the National Historic Site.
Winter Camping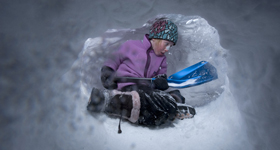 Unlike the summer, you do not need to stay in designated campgrounds while winter camping. With the exception of Log Cabin parking lot, open fires are prohibited at all locations within the National Historic Site. It is illegal to cut/gather firewood within the National Historic Site.
Seasonal Restricted Activity Areas at the Bennett City and Lindeman City townsites protect sensitive historic features. Access to the Bennett townsite area and overland access between the Lindeman shelters is by ski and snowshoe only.
There are a number of unmaintained visitor shelters within Chilkoot Trail National Historic Site.
Bennett – Shelter closed for the winter
Bare Loon – Open-sided shelter, available for winter use; no wood stove
Upper and Lower Lindeman – Both shelters are open. Both have woodstoves, though firewood supplies are unreliable
Chilkoot Pass – This shelter is typically buried under snow and may not be accessible for use. No wood stove.
Please note: There is currently no shelter at Happy Camp.
Ice Fishing
Please note: Ice fishing is prohibited within the site.