Citizen science projects
Waterton Lakes National Park
Record a bird sighting. Help clean up a shoreline. Volunteer alongside scientists and help collect information that helps us better understand the species of our park. Spend a day with our teams and learn more about our park's ecosystems and their inhabitants – and the challenges that they face. All of the data collected helps our park scientists to better manage this special place in our changing world. Whether its taking biological inventories, species monitoring or other specific research, there are activities for all ages and abilities!
To register for a project, or for more information, call 403-859-5133 or email wlnp-volunteer@pc.gc.ca Be sure to let us know what project you are interested in!
Park entry is free for the days of your volunteer activities. You are responsible for your own travel and accommodations while volunteering in Waterton Lakes National Park.
Find your next volunteer opportunity
Tuesdays in August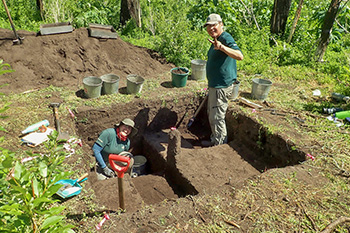 Help preserve the rich cultural heritage of Waterton Lakes National Park! Humans have been using this area since the retreat of the glaciers about 11,000 years ago. The 2017 Kenow Wildfire presented archeologists with a unique opportunity: an unhindered view of the landscape.
Help archaeologists survey areas for artifacts or dig test holes to gather information about the environment of the past.
Sign up for a full (7.5 hours) or half (3.5 hours) day assisting Parks Canada archeologists.
Requirements:
Prepared for an off trail hike of approximately 5 to 7 kms;
Work in gravelly, rocky or uneven terrain and travel through vegetation, while wearing a daypack;
Able to perform light physical labour. Repeatedly bending over, kneeling down, screening dirt.
Volunteer duties:
Report, record and leave in place, any items suspected of being of potential cultural or archaeological value to Parks Canada staff;
Assist carrying equipment to and from worksite;
Remain in sight of the group leader at all times;
Work as part of a team, following safety training and site-specific work instructions.
Register by email: wlnp-volunteer@pc.gc.ca
Mid to late July
Come be a lepidopterist for a day or two! Join butterfly experts and Parks Canada staff to catch, identify and learn about butterflies.
Requirements:
No experience necessary. Just a willingness to learn about and catch butterflies;
Be prepared for a full day outside. Bring water and clothing for changeable weather;
If you have them, bring a camera, butterfly net and field guides;
If you are bringing your own butterfly net, before you come be sure that it is completely clean of all debris including seeds.
Volunteer duties:
Drive to counting locations within Waterton Lakes National Park;
Run and catch butterflies, unharmed, with nets;
Bring butterflies in the net, to count leaders for identification and then, under direction of count leaders, release them unharmed.
Register by email: wlnp-volunteer@pc.gc.ca
Third weekend in December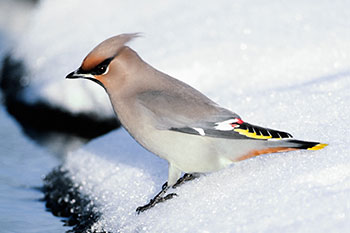 You'll be surprised at how many different birds can be seen in the start of a Waterton winter; from 12 different species if the weather is really bad on to 38 or more in better weather. Oh, and it's just not birds, we also list the mammals and the tracks that we see. Ninety-two different bird species have been recorded here in winter. So there's always the allure of the rare one or two that no other Alberta location gets on their count!
Requirements:
If a beginner, we will suggest a few common birds to learn, provide tips and suggest a count route;
Ability to identify at least some birds by sight and call. Record sightings and submit data to the count organizer;
Be prepared for a full day outside and able to find you own way in the park.
Volunteer duties:
Well in advance of the count, review the online instructions and sign up for a count route(s) on the online map;
Travel through the selected area of the park looking for birds and mammals;
Record your sightings: species and number of each on count day and/or species seen count week, which is three days before and after count day;
Submit the record sheet in-person or by email within two weeks of the end of count week.
Information on bird watching in the park: See our bird watching page.
Register by email: wlnp-volunteer@pc.gc.ca
June training; weekend shifts - July to mid-October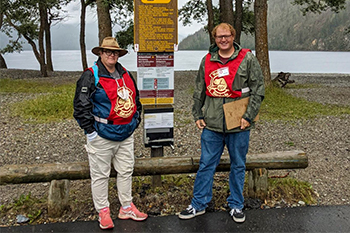 For the outgoing and meticulous, this project combines being a citizen scientist and a habitat hero! It's all to help the park's aquatic ecosystems. Eco Ambassadors assist Parks Canada's Aquatic Guardians with some tasks during summer and early fall weekends at the park's most popular recreational waterbodies.
Requirements:
Enthusiastic about aquatic ecosystems;
Outgoing and friendly, while strictly following safety protocols;
Complete quality visitor experience training and project orientation (a full day of training);
Able to sign up for mid-day, three-hour shifts on weekends and holidays, July through mid-October;
Own cell phone and transportation.
Volunteer duties:
Provide information and friendly reminders to visitors about the park's new watercraft regulations, the harmful effects of aquatic invasive species, rock dams, and what visitors can do to help;
Observe and accurately record watercraft types and visitors' comments;
Report illegally-built rock dams to the Aquatic Guardians;
Use safety equipment provided and follow safety procedures.
Register by email: wlnp-volunteer@pc.gc.ca
First Saturday in May, second Saturday in September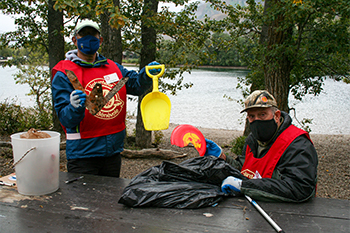 Don't let wind blow that litter away! Park volunteers team up with Awesome Adventures to scour Waterton's shorelines for litter at popular lake shores as part of the Great Canadian Shoreline Cleanup.
It is a citizen science project, too. We count and record the type of trash as we pick it up and send the data to the national coordinator. That data "played a key role" in the federal government's Science Assessment of Plastic Pollution report, which helped form its October 2020 announcement that six single-use plastic items will be banned by the end of 2021. The data is also used in the park to track trends and inform operations.
Awesome Adventures of Lethbridge organize the underwater divers and Parks Canada organizes the shoreline volunteers.
Requirements:
Able to perform repetitive, light physical labour (bending over, picking up);
Comfortable working along the shoreline at the edge of a lake, including supervising your own children there;
Interested in working in small, physically distanced teams that count and record each piece of litter picked up;
Prepared for a half-day outside along the shoreline, including rubber boots and a spare change of socks and pants, just in case.
Volunteer duties:
Hike along shorelines to pick up and bag litter or collect litter from the divers as they bring it out to the shoreline;
Long-handled litter pickers, garbage bags and dish gloves or water resistant gloves provided by the park.
Register by email: wlnp-volunteer@pc.gc.ca
First weekend of June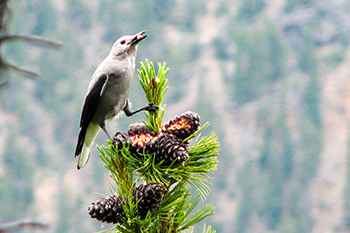 Celebrate spring and satisfy your curiosity about the birds that are back in the park! Join the growing number of citizen scientists identifying and counting birds. Volunteer for one or both days of the count – beginners welcome!
Materials, including recommended locations sign up, are provided online ahead of the count. After the count, volunteers gather (in person or virtually) to compare notes and share the day's stories.
The Spring Bird Count in Waterton Lakes National Park support Alberta's province-wide, annual spring count.
Requirements:
Internet access to provided materials;
Binoculars;
Ability to identify some birds by sight or call;
Prepared for a full day outside and able to find you own way in the park.
Volunteer duties:
In the weeks before count weekend:

Read through self-serve instructions and materials online;
Submit the location and dates of choice you would like to count. Count areas are on a first-come, first serve basis;
Print the data sheet or use the eBird app to record your sightings;
Optional: Participate in a virtual workshop about the eBird app.

Travel through the selected area of the park looking for birds and mammals;
Accurately record your sightings and submit the record sheet by email or via eBird.
Register by email: wlnp-volunteer@pc.gc.ca
Last weekend of May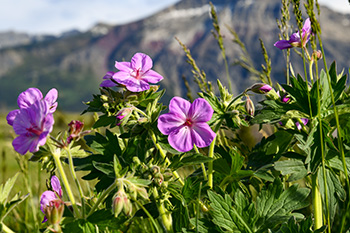 This is a wonderful opportunity to explore the park while looking for and learning about some of the area's fantastic plants from an experienced botanist.
We work as a large group Saturday morning. If you would like to volunteer further, coordinate with the supervisor to count at assigned sites. Your findings contribute to monitoring climate change as part of the annual, Alberta-wide snapshot.
Requirements:
Prepared to spend a morning outside;
Some basic knowledge of plant identification. An expert is on hand for confirmation of identifications and assistance.
Volunteer duties:
Identify and count plant species in bloom and record general location;
Coordinate with project supervisor for activity and to submit count information.
Register by email: wlnp-volunteer@pc.gc.ca
Anytime, using smartphone app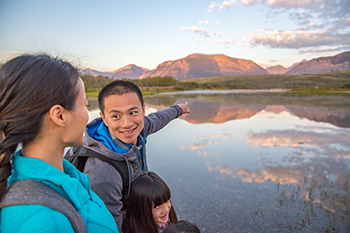 Become a self-guided citizen scientist for Waterton Lakes National Park!
Using the free mobile app, report any species (big or small) you see and their location. Don't forget to snap a picture! Discover what others citizen scientists are finding or use iNaturalist to ID a species you may not recognize. The data collected helps scientists better understand and protect environments – not only in Waterton Lakes National Park, but worldwide!
Visit the iNaturalist page for Waterton Lakes National Park
Discover more projects throughout Canada at iNaturalist.ca.
Note: Once downloaded, this app doesn't require cellular data or a Wi-Fi connection.