Mandatory watercraft inspection
Waterton Lakes National Park
Waterton Lakes National Park is taking extra steps to protect park waters from harmful aquatic invasive species, including invasive mussels and whirling disease. All non-motorized watercraft are subject to a mandatory inspection before entering the park.
All visitors with non-motorized watercraft, including (but not limited to) canoes, kayaks, drift boats, paddle boats, stand up paddleboards and sailboats, must have their watercraft inspected and receive a permit.
Parks Canada staff will ask visitors a series of questions to assess risks and inspect the watercraft for standing water, mud, plants, or animals. A decontamination station will be available at the same location so parks staff can remove any material that could contain aquatic invasive species.
A waterproof tag will be applied to the watercraft once inspection has been completed. A paper permit will also be provided, to be kept on a vehicle's dashboard.
Parks Canada Agency reserves the right to deny a permit if watercraft and aquatic equipment pose unmitigated risk of aquatic invasive species. Those who do not receive a permit cannot enter any body of water within Waterton Lakes National Park with their watercraft.
Whenever a watercraft leaves the park and re-enters, it will be subject to inspection and recertification.
If you have more questions, please consult the FAQ for more information.
Visit the water activities page for more information on water recreation and how to have a safe, enjoyable experience in Waterton Lakes National Park.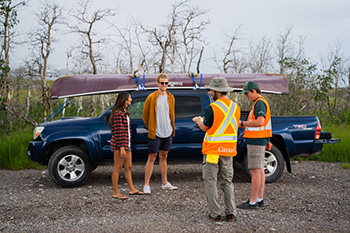 2023 hours of operation
Inspections are mandatory. Beginning October 25, 2023 inspections are by appointment only. Please book in advance if possible.
How to schedule a watercraft inspection
90-day quarantine program for motorized and trailered boats
All motorized and trailered watercraft continue to be required to participate in the park's 90-day quarantine sealing program before they will be able to enter Upper or Middle Waterton Lake. This program is being administered by Improvement District #4 and Shoreline Cruise Co., with support from Parks Canada. Learn more about the 90-day quarantine program.
Mandatory self-certification
Water equipment not included in inspection programs will require a self-certification permit. This includes:
Fishing equipment
Scuba gear
Inflatable toys and floats (rafts, inner tubes, children's toys).
Note that packable or inflatable kayaks, paddleboards and canoes must still be inspected by Parks Canada Staff at the inspection station.
Self-certification permits are available at the Visitor Centre or boxes at popular beaches around the park. Visitors must complete the permit form before their equipment or watercraft enters park waters. The completed form acts as a permit, keep it with you and be prepared to produce it if asked by Parks Canada staff.
Self-certification permit locations
Location details

| Location | Coordinates |
| --- | --- |
| Watercraft inspection station | 49°06'50.3"N 113°50'33.7"W |
| Belly River | 49°06'54.1"N 113°50'34.3"W |
| Belly River Campground | 49°01'34.9"N 113°41'04.8"W |
| Cameron Bay | 49°02'41.7"N 113°54'50.1"W |
| Cameron Lake | 49°01'10.7"N 114°02'42.2"W |
| Driftwood Beach | 49°03'57.7"N 113°53'44.6"W |
| Emerald Bay North | 49°03'24.7"N 113°54'31.5"W |
| Emerald Bay South | 49°03'20.8"N 113°54'37.7"W |
| Hay Barn (closed) | 49°04'48.0"N 113°51'03.1"W |
| Knight Lake (closed) | 49°06'12.7"N 113°51'05.2"W |
| Linnet Docks | 49°03'48.5"N 113°54'12.2"W |
| Marina | 49°03'15.2"N 113°54'27.6"W |
| Maskinonge | 49°06'37.2"N 113°50'28.7"W |
| Park gate | 49°06'34.4"N 113°50'57.3"W |
| Townsite Campground kiosk | 49°02'54.9"N 113°54'33.6"W |
| Visitor centre | 404 Cameron Falls Drive |
Aquatic invasive species in Waterton Lakes National Park
Many of Waterton Lakes National Park's thousands of visitors enjoy the park's lakes and rivers each year by boating, fishing and swimming. These activities risk introducing aquatic invasive species (AIS) into park waters. AIS are non-native species, exotic species, noxious weeds, or invasive pests or pathogens that require aquatic habitat to survive. Many kinds of aquatics invasive species can survive in Waterton Lakes National Park and interrupt our ecosystem. Some species of concern are zebra and quagga mussels, whirling disease and Eurasian milfoil.
Invasive mussels
Zebra and quagga mussels are prodigious filter feeders, they strip nutrients from the water leaving little or no food for native species. This affects the entire food web, impacting plant and animal life in the region, and altering water chemistry and clarity. They are of highest concern, and many other jurisdictions have taken action to prevent their spread. Infestations are permanent and irreversible. Learn more about invasive mussels.
Whirling disease
Whirling disease affects salmonid fish like trout and whitefish and can cause them to swim in a whirling pattern and die prematurely. Whirling disease is present in the Oldman River basin, including downstream from the park in the Waterton River below the reservoir. This disease would be very detrimental to the park's native fish populations.
Eurasian water milfoil
Eurasian water milfoil is a perennial, submersed aquatic plant native to Eurasia and North Africa. This invasive plant is currently not present in Alberta, but, new colonies can be formed from a single stem, seed or leaf. Eurasian milfoil forms thick layers that shade native plants and decrease oxygen levels as they decay, impacting native fish and wildlife. It can be very difficult to eradicate once established.