oTENTik camping at Green Point
Pacific Rim National Park Reserve
Reservations | Fees | Equipment and supplies | Rules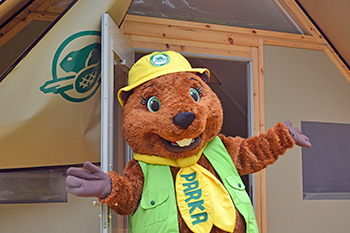 Find a home away from home in Green Point Campground!
Welcome to a whole new way of camping. No more squabbles over lost tent pegs, no more struggling to remember which pole goes where. Parks Canada oTENTiks blend the best of tent camping with A-frame cabins to create a spacious spot for you to enjoy the beauty of the west coast. Inside, you will find comfy sleeping platforms with space for up to six happy campers, plus a table and chairs for an evening game of cards.
After a day of hiking through the rainforest, surfing the west coast waves or beachcombing through the tidal pools, come together on the front deck of your oTENTik for a BBQ and a night telling stories and roasting marshmallows at the campfire. Relaxed, easy and no-stress camping for those who love the wilderness and their creature comforts too.
---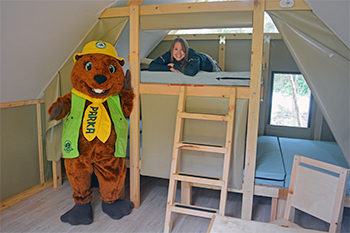 Reservations
Our oTENTik is available for reservation May through October. Reservations for the 2023 season can be made starting: 8 AM PDT March 13, 2023
• Call 1-877-737-3783 or visit www.reservation.pc.gc.ca to reserve.
• The oTENTik tent can accommodate up to six people.
• Check-in time: any time after 3 p.m.
• Check-out time: 11 a.m.
• Be sure to check our Interpretive Programs (June through August) for inspiring and fascinating presentations in the Green Point Theatre during your stay!
---
Fees
All reservation and accommodation fees are due at the time your reservation is created.
---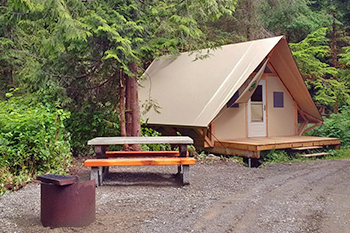 oTENTik equipment and supplies
At the campsite:
oTENTik with front deck
Fire pit
Picnic table
Inside each oTENTik:
Sleeping area for up to 6 people - sleeping platforms with approximately 2 queen sized mattresses and 1 double mattress.
A table and seating for 6 people.
Nearby:
Washroom with flush toilets and hot showers
Water taps
Firewood for purchase
Parking for a maximum of two vehicles
What to bring (This is not an exhaustive list.):
Sleeping bags, blankets and pillows
Food, drinks and a container for water
Cooking equipment, dishes, eating utensils and a cooler
Slippers or indoor shoes
Flashlights
Matches or a lighter to light the outdoor fire pit
Camp stove
Camping chairs
---
A few rules
In addition to the park reserve's camping regulations, Parks Canada oTENTik users must follow a few additional rules:
For your safety and to keep bears, wolves and cougars wild, no food preparation, food or drink storage, eating, drinking or cooking is allowed inside the tent. Please store all food and related items in your vehicle during your stay.
Smoking is not permitted inside the tent.
Pets and stereos are not permitted.