Unique food and drink experiences
There are so many tasty activities to devour in Parks Canada places! From traditional recipes, epic picnics, historic spirits to the most authentic historic culinary experiences, reserve your spot today and get a taste of history!
Nature is delicious!
---
Fruit picking
Gulf Islands National Park Reserve, British Columbia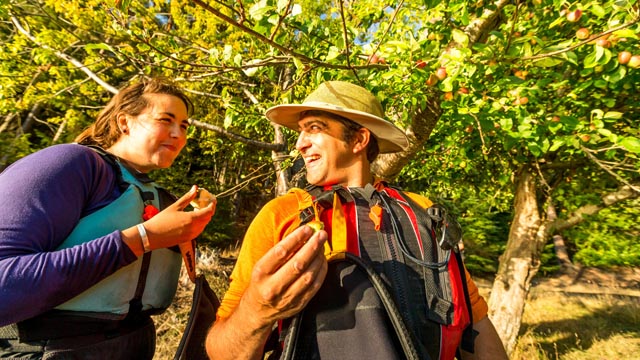 Choose from 17 lovely orchards across the Gulf Islands National Park Reserve to gather fruits and nuts— following in the footsteps of the early European settlers dating back to the 1830s. Scattered across the southern Gulf Islands, many of these orchards connect us back to the original settlers where their farming practices linked into the local economy. On North Pender Island, explore the lush Roesland Orchard, planted in 1910 by Scottish immigrant Robert Roe Sr. Discover the Mahoi Orchard on Russell Island and taste the sweet apples and cherries from the garden of Hawaiian settlers, William Haumea, Maria Mahoi and the Fisher family. Follow the rules of considerate and sustainable harvesting and enjoy the taste of sweet heritage fruit!
Take a workshop
---
Bannock making at the Big Stone Fort
Lower Fort Garry National Historic Site, Manitoba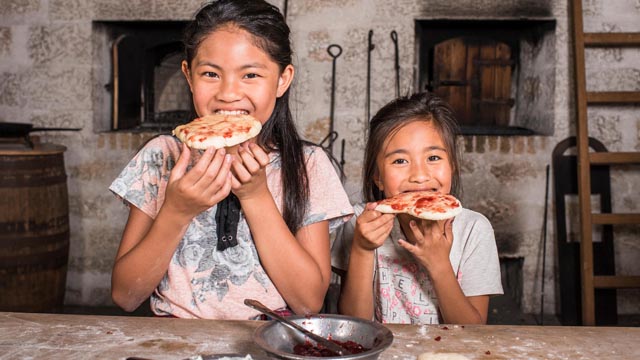 Take part in a culinary workshop surrounded by Canada's oldest collection of stone fur trade buildings, where trappers and traders of the Hudson's Bay Company once gathered in the 1850s.
Learn to make tasty bannock bread, and discover the art of grinding grain by the quern— a stone hand mill to make flour. Then, as your bannock cooks, try your hand at churning butter!
Say cheers to spirited adventures!
---
Distilled experiences
Halifax Citadel National Historic Site, Nova Scotia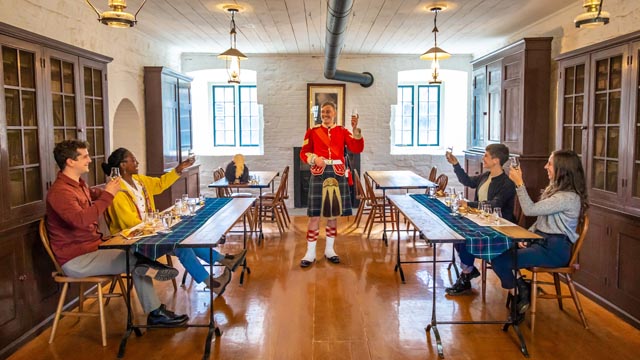 Did you know that the everyday life of a nineteenth-century soldier included alcohol? From persuading the enlistment of new recruits, to fortifying one's bravery in the field, alcohol was the high-point for many soldiers. Go behind-the-scenes at the citadel with a kilted 78th Highlander and Raise your Spirits as you savour three unique spirits created by the award-winning Compass Distillers; the Noon Gun Gin, Granite & Grain Whiskey, and Daily Ration Rum, all aged in oak barrels and stored on-site at the citadel and paired with delicious artisanal cheeses on this tour.
Experience the exclusive and spirited private tour Proof is in the Barrel with a uniformed 78th Highlander guide. Watch a firing demonstration of an authentic 19th-century Snider-Enfield rifle, take samples from the barrels and help the distiller 'proof them down', a process which reduces alcohol content. Gather in the North Magazine's Garrison Room for a delicious culinary experience featuring local charcuterie, all chosen to pair perfectly with each spirit. Learn how to properly taste each spirit and take the opportunity to ask the distiller all your questions. End the tour by receiving a gift box set of Halifax Citadel-aged spirits of your choice.
La Taverne Storehouse
Fortress of Louisbourg National Historic Site, Nova Scotia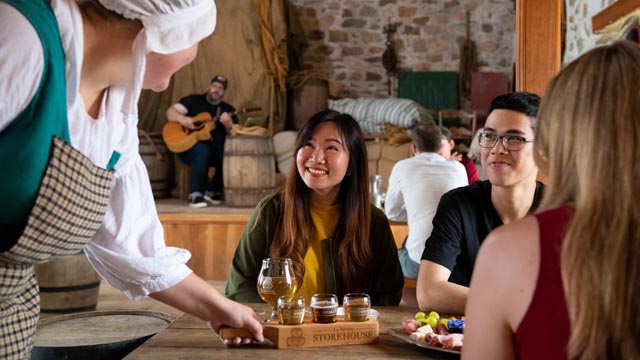 Get a taste of history in the cheery atmosphere of La Taverne Storehouse with tasty tavern fare such as charcuterie boards and delicious local beer and cider, each brewed with a special connection to the fortress in mind. Step back in time as "residents" of the 18th century town complete with period costumes serve you as you sit in historically accurate carved wood furniture and stone architecture.
Your visit won't be complete without a sample of Fortress™ Rum which is aged at the Fortress of Louisbourg National Historic Site! Did you know that rum was the most popular drink in this 18th century town? Learn more about the fascinating history of this strong spirit at the Rum Exhibit. You can even see original bottles that were excavated from the site!
The Storehouse Tavern also hosts weekly local musicians! Visit the Fortress Louisbourg Association for up-to-date details on musical guests, featured food and drink, and special programs and events.
The taste of Nova Scotia good cheer trail
Port-Royal National Historic Site, Nova Scotia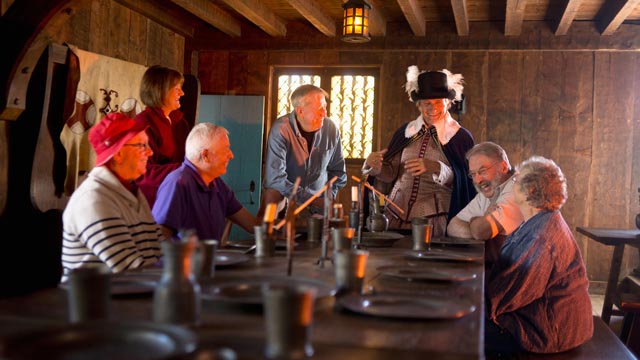 In 1606, Samuel de Champlain started the 'Order of Good Cheer' social club at the Habitation, the site of the first attempt at a permanent European settlement in the New World. Stop off at Port-Royal and pick up a Taste of Nova Scotia Good Cheer Trail Passport and start your spirited tribute to de Champlain's love of food and wine and tour Canada's first winery, craft brewery, cidery and distillery trail, that celebrates a long tradition of hospitality and pride for the bounty of Nova Scotia.
Historic bites!
---
Attention: Foodies
Fortress of Louisbourg National Historic Site, Nova Scotia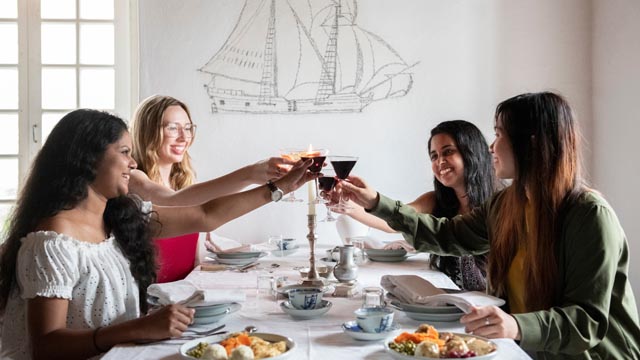 Explore a variety of unique dining experiences that will enhance your experience as you travel back in time. Choose from the following:
Savour meals inspired by 18th century French cuisine and local Cape Breton Island ingredients at the Grandchamp House as you enjoy an etiquette lesson from servers in period costume!
Visit the Hotel de la Marine for a quick take-away menu featuring delicious sandwiches, fresh salads and sides.
French-inspired L'Epée Royale café serves up specialty coffee, French pastries, and local Cape Breton sweets, and makes for the perfect location to re-charge your body and electronic devices before venturing out to explore more of the site.
Discover a traditional 18th century bread-making process at the King's Bakery, and savour delicious aromas and flavours of bread inspired by soldier, middle-class and upper-class recipes.
Chocolate lover?
Fortress of Louisbourg National Historic Site, Nova Scotia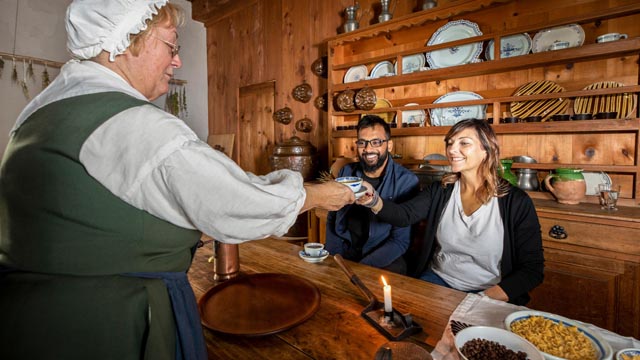 Enjoy a blast from the past as you Time Travel at the Fortress of Louisbourg! Chat with a "soldier" about his life in this fortified town and watch a musket firing demonstration. Head to one of Louisbourg's finest homes and let your mouth water as a kitchen servant mixes you up a piping hot cup of Heritage™ chocolate. Let this rich drink warm your spirits, just as it did for the town's elite 300 years ago.
Mersey Magic - Voyageur Canoe
Kejimkujik National Park and National Historic Site, Nova Scotia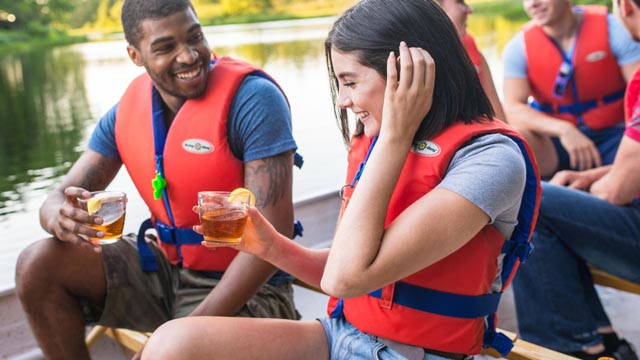 Climb aboard a voyageur canoe for a tour of the Mersey River. Slow down to the flow of the river as you dip your paddle into serene waters, hearing the interesting natural and cultural tales told by your knowledgeable guides. Get excited for a humorous story or two as you are served a delicious treat and refreshing Mersey Tea on this exquisite evening experience. History tastes so good.
Cowboy coffee and the Cookhouse
Bar U Ranch National Historic Site, Alberta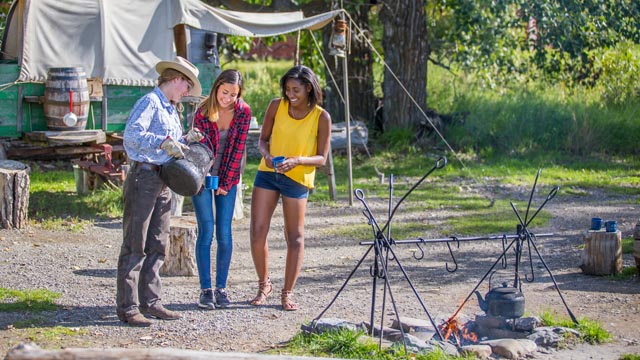 Ride into history on a wagon pulled by the majestic Percheron horses to discover the life of a ranching cowboy from the late 1800s at the Bar U Ranch.
Visit the "belly of the Bar U", where cowboys ate, slept and relaxed, and sample wood-fired baked goods. Don't forget to visit the nearby garden, storehouses and the root cellar and explore how food was produced and preserved before modern-day refrigeration. Then, sip on cowboy coffee at the Roundup Camp and hear tales about legends and life on the range as the smoke from the campfire curls lazily into the air. This is a true Alberta Experience!
Métis miyotôtâkewin - a metis welcome
Rocky Mountain House National Historic Site, Alberta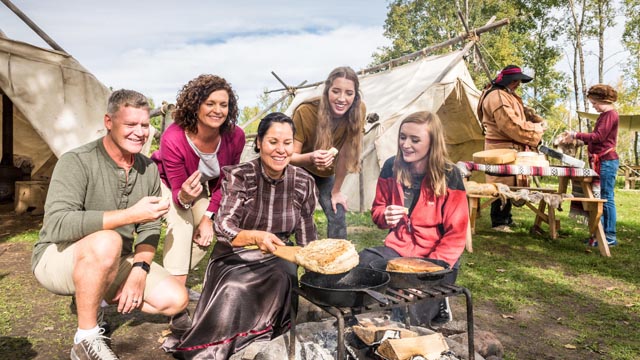 Experience one of Canada's most diverse Indigenous groups - the Métis peoples. Learn about the fur trade and fur trapping, try finger weaving, move your feet with Métis dancers in your very own jigging lesson and meet with a Métis Elder. Has all this whetted your appetite? Learn more about a delicious staple of Indigenous culinary culture, fluffy, open fire-cooked, bannock bread. Have a bit of this chewy and moist bread made especially delectable topped with local jams. This is an immersive cultural experience not to be missed!
Heritage ice cream and soda at the canteen
Fort Rodd Hill and Fisgard Lighthouse National Historic Sites, British Columbia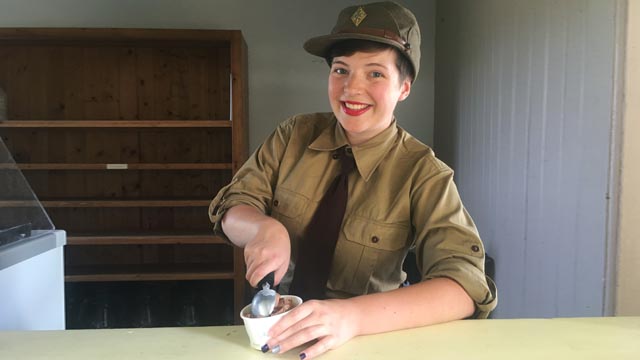 A sweet tooth didn't just go away when rationing came into play! During WW2, many countries enforced food rationing to ensure everyone had enough to eat. On the home front, surviving the food ration period meant focusing on local ingredients and required teamwork and creativity; waste was not an option! At Fort Rodd Hill, off-duty soldiers, waiting to be shipped overseas, gathered at the Canteen for a bit of social time and to indulge in allowable treats including ice cream and soda. Today, inspired by common ingredients and historic recipes from the ration periods, you too can treat yourself to Heritage Ice Cream and Soda; which flavours will you choose: Chocolate Ration Cake, Apple Cider Oatmeal, or Eat Your Invasive Blackberries?
The Perfect Picnic
---

Because everything tastes better when you eat it outside! Enjoy Parks Canada's twist on take-out and let nature design your dining space with the Perfect Picnic; a pick-up-and-go lunch for two, packaged in a Parks Canada picnic box provided by local businesses. it's as easy as 1, 2, 3!
Place your order with the restaurant
Pick up your lunch
Find your perfect picnic place and enjoy!
Available at the following locations
Be dazzled by soft, sandy beaches, turquoise water, the bright blue sky and thousands of wildflowers. Your eyes will feast as well as your taste buds! Choose from different restaurants and menus. German Bratwurst sausage and homemade sauerkraut, portobello mushroom melt, and more!
Let the highlands, beaches, lakes, waterfalls and forests set the scene and find your perfect picnic place. Choose from one of our ten recommended perfect picnic places, or find your own!
Let nature design your dining space. Fort Anne offers spectacular water views and expansive lawns ideal for laying a picnic blanket - add yourself and bon appétit! German sausage, locally-sourced schnitzel, salami, or Dutch gouda, what will you choose?
Set your dining space on the shore of the Annapolis Basin. Gaze at the same horizon that the Mi'kmaq experienced for thousands of years and that Champlain saw in 1605. Pick up a ready-made lunch and why not let yourself be tempted by local blueberry oat squares or pie!
Pick up your lunch when you board the ferry to Georges Island! Find your perfect picnic spot in the middle of Halifax Harbour and enjoy a lobster roll or a ploughman's lunch.
There are thousands of spots to lay out a picnic blanket and enjoy a cheerful meal within this 18th century fortified French town. Place your order with the Fortress Louisbourg Association and ask about daily specials and gluten-free, vegetarian, and vegan options!
Instantly captivating, the Mingan Archipelago features colossal limestone outcroppings that evoke landscapes from primeval times. Few places offer such an exceptional setting for a dining space!
Have a picnic in a UNESCO World Heritage Site! View the magnificent sights of Fortifications of Québec in the heart of Old Quebec and let your eyes wander along some of the city's most beautiful vistas.
Take a break from the every-day and have a picnic on the lush grass along the Lairet River. Retrace the history of Jacques-Cartier's second voyage as well as his encounters with the St. Lawrence Iroquoians. Have a great time in an inspiring environment.
Enjoy a picnic in an authentic 19th century fort. Discover the well-kept secrets of Fort No. 1 which offers a strategic view of Quebec City and is a testament to remarkable military technological innovations.
Vintage recipes
---

Experience gourmet heritage at home! Choose from more than 60 vintage recipes adapted to contemporary cuisine or have a peek inside Woodside National Historic Site's kitchen. Embark on a culinary adventure while discovering Parks Canada places! Who knew history could taste this good?
Did you enjoy this article?
Subscribe to the Parks Canada Newsletter and discover more: find out about events, hidden gems, trip planning, conservation and wildlife, contests, promotions…