Conservation projects at Fort Lennox
Fort Lennox National Historic Site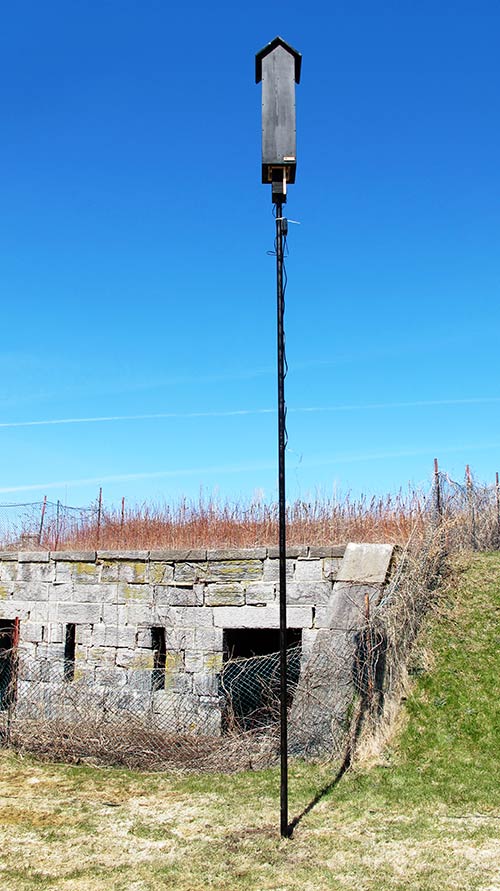 Bat boxes
The presence of bats is taken into account when any work is done to the Fort Lennox building, to mitigate the impact on the species. Adept in dark and damp places, bats gravitate to the fort to rest and build their nests there. However, the building enhancement work involves plugging the holes that they would normally slip into. This is why nest boxes have been set up outside the fort.
Past project: Chimney Swift tracking
Are you familiar with the MOTUS Wildlife Tracking System? It is the world's largest automated radio-telemetry network, consisting of more than 1,000 receiving antennas in 31 countries to track animal movements. From 2020 to 2021, a MOTUS antenna was installed at Fort Lennox National Historic Site to cover the Chimney Swift's movements. The project supported the studies conducted by the Canadian Wildlife Service in collaboration with the Zoo de Granby, with the aim of improving knowledge of this threatened species. Île aux Noix is an ideal place to study bird movements because it is located right in the migration axis, which is the Richelieu River.
How does the MOTUS antenna system work?
Researchers place tiny lightweight transmitters on the birds, and their signal is detected by receiving antennas scattered throughout the landscape. The data collected makes it possible to determine where and how fast the birds go, how long they stay in an area, and what their nesting habits are.