Construction
Kootenay National Park
For information about Alberta highway conditions visit 511 Alberta, call 1-855-391-9743 toll-free, or dial 511 (inside Alberta only). For British Columbia highway conditions visit Drive BC or call 1-800-550-4997 toll-free.
There is no cell service in Kootenay National Park. Emergency telephones are available in four locations and clearly marked on highway signage.
Parks Canada's federal infrastructure investment program

Parks Canada's federal infrastructure investment program

Since 2015, the Government of Canada has invested more than $3 billion to rehabilitate infrastructure assets in national historic sites, national parks, and national marine conservation areas across Canada. This historic investment is the largest federal infrastructure plan in the history of Parks Canada.

Through infrastructure investments, Parks Canada is protecting and conserving national treasures, while supporting local economies and contributing to growth in the tourism sector. Investments in heritage, visitor, waterway, and highway infrastructure ensure safe, high-quality and meaningful experiences for visitors, enabling Canadians to discover nature and connect with history.

Ecological integrity is Parks Canada's first priority. Impact assessments are used to manage the impact of infrastructure projects, and when possible, increase ecological gains for park ecosystems.
Construction projects in the mountain national parks
This is not an exhaustive list of infrastructure projects underway. Only projects that may impact visitors are listed. Please check Drive BC for current road conditions before you travel. The safety of motorists and workers is Parks Canada's top priority. Please respect traffic control personnel and reduced speed zones to help keep workers and motorists safe.
Construction in Sinclair Canyon
Kootenay West Gate

Kootenay West Gate

The visitor gate for Kootenay National Park will be removed. A new gate has been constructed at a new location north of the Radium Hot Pools and will open in fall 2022. Paving at the new gate will take place in fall 2022.

When: Fall 2022
Visitor Impacts: None
Traffic: Expect speed reductions to 30km/h, occasional delays of up to 10 minutes and a brief period of single lane alternating traffic.
Chip seal surfacing

Chip seal surfacing

Chip seal surfacing will take place between the Kootenay National Park west boundary and Kootenay Valley Viewpoint.

When: June to September 2022
Visitor Impacts: None
Traffic: Expect speed reductions, sections of single lane alternating traffic and delays up to 20 minutes in peak periods.
Simpson River Trailhead Privy Construction

Simpson River Trailhead Privy Construction

Demolition of the horse ramp and construction of new privies will begin in September 2022 at the Simpson River Trailhead. Construction is expected to be completed by early November 2022.

When: September to November 2022
Visitor Impacts: Some parking will be maintained for trail users during construction.
Traffic: None.
Construction at Radium Hot Springs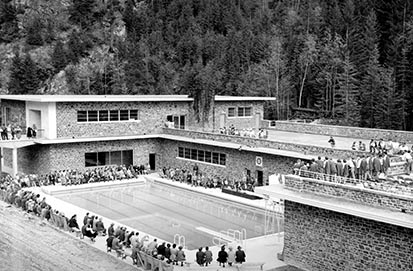 Radium Hot Springs is open seven days a week.
The hot springs operate on a first come, first served basis. Reservations to soak in Radium Hot Springs are neither required, nor available. To make the most of your visit, please come prepared for the following:
Proof of full vaccination for patrons 12 and older, and government issued ID for patrons 18 and older.

Patrons aged 5 and older must wear a mask in the lobby, dry hall, and change rooms. Masks may be stored in your locker while enjoying the hot springs.

Capacity is based on lifeguard-to-patron ratios.

Towel and swimsuits are available to rent at a small fee.
For hours, fees and more information, visit hotsprings.ca/radium, read our FAQ or call 1-800-767-1611.
The Radium Hot Springs Aquacourt is a federally designated heritage building. Constructed between 1949 and 1951, the Radium Hot Springs pools facility was the first major post Second World War building project in Canada's western national parks.
What is happening?

Since 2016, Parks Canada has invested over $9.5 million dollars to restore and improve the Radium Hot Springs pools for current and future generations of visitors to enjoy. This investment has included five multi-staged projects that focused on repairing the facility's structure. This work is the single largest investment into the facility since it opened in 1951.
Why is this work important?

Radium Hot Springs welcomes over half of all visitors to Kootenay National Park annually. As Parks Canada celebrates the 100th anniversary of Kootenay's establishment in 2020, the Radium Hot Springs pools are recognized as a favorite stopping point for past, present and future visitors.

Parks Canada was able to able to continue construction throughout the extended COVID-19 closure and reopened on September 18.

Combined with recently completed structural and mechanical work, these projects:

Ensure the safety of staff and visitors.
Ensure the facility is structurally sound, and meets current building codes and health and safety requirements.
Improve accessibility to the facility by replacing the ramp from the small parking lot and adding a second ramp from the loading zone at the front of the building.
Reduce the facility's environmental footprint by using excess geothermal heat from the hot springs to heat the facility and melt snow off ramps and pathways.
Improve habitat for Rubber Boas, a snake species of special concern.
Protect a federally designated heritage building (and pool facilities) for future generations of Canadians to enjoy.
New projects

Café and gift shop concession

Anyone interested in operating the food and beverage and gift shop concession at the Radium Hot Springs pools facility may contact the Chief Operating Officer (COO) for the Canadian Rockies Hot Springs at: Julian.England@canada.ca
Completed projects

Men's and women's change rooms

Replaced the flooring, ceilings and lighting in both change rooms.
Installed new tiles and fixtures in the men's and women's showers.
Replaced the benches, cubical partitions, sinks and counter surfaces in the women's change room.
Repainted both change rooms.

Replaced sundeck and pool level roofs
Repaired water damage and fixed existing leaks
Installed new pavers and safety railings


Restaurant and gift shop renovation

Renovated diner space
Replaced all mechanical, electrical systems and fire protection systems
Created a new floor plan for the space

Mechanical and electrical system upgrades

Replaced out-dated and inefficient mechanical and electrical components in the main building and swimming pools with new energy efficient technology
Upgraded geothermal building heating and domestic hot water systems
Replaced all water pipes and valves
Replaced emergency power generator
Replaced the de-chlorination system
Improved fire sprinkler system coverage

Pedestrian access ramp from small parking lot to the pools facility

Replaced 31-year-old ramp with a new ramp spanning more than 50 metres with a 2.8 m elevation change
Installed enhanced snowmelt system to improve winter accessibility

Main pedestrian bridge, walkway structural repairs and grounds improvement

Replaced the 70-year-old north entrance pedestrian bridge
Structural repairs to the retaining wall above the shallow soaking pool ("hot pool")
Constructed second pedestrian access ramp
Installed enhanced snowmelt system to improve winter accessibility
Landscaping, sightline and outdoor lighting improvements