Trails Conservation and Restoration
Fundy National Park
Restoring the footprint of Fundy National Park
Beautiful plunging river valleys surrounded by Acadian forests and spectacular ocean views is what comes to mind for most when they think of Fundy National Park. What isn't always thought about or remembered is the bustling communities of which used to inhabit this area.
The early 1800s settlers from Scotland, Ireland and England began to form small coastal communities within what is now the park boundary. Although the land was not ideal for homesteading, sawmills, shipbuilding and fishing thrived in the area. As expected, with the upswing of small industry came the building of roads and infrastructure. However, once larger mills opened, and wood was no longer the material of choice for ship building, the communities within Fundy slowly vanished. To help preserve the areas natural beauty Fundy became a National Park in 1948.
With large cart paths still prominent on the Fundy landscape from decades past, Fundy National Park is working to transition its trail system into a more ecologically sustainable network. The intent of this work is to build stimulating, sustainable and educational trail experiences while reducing the ecological impacts to the land.
The efforts seem simple, build new trail and decommission the old road or trail which existed before it, but the effects are twofold.
It's the team that makes the process unforgettable
At the start of the project, the Fundy trails crew began working with the International Mountain Biking Association (IMBA) through a series of workshops to develop expert skills in sustainable trail building. This practical experience provided the opportunity to gain hands on experience and knowledge about the science behind new trail building techniques.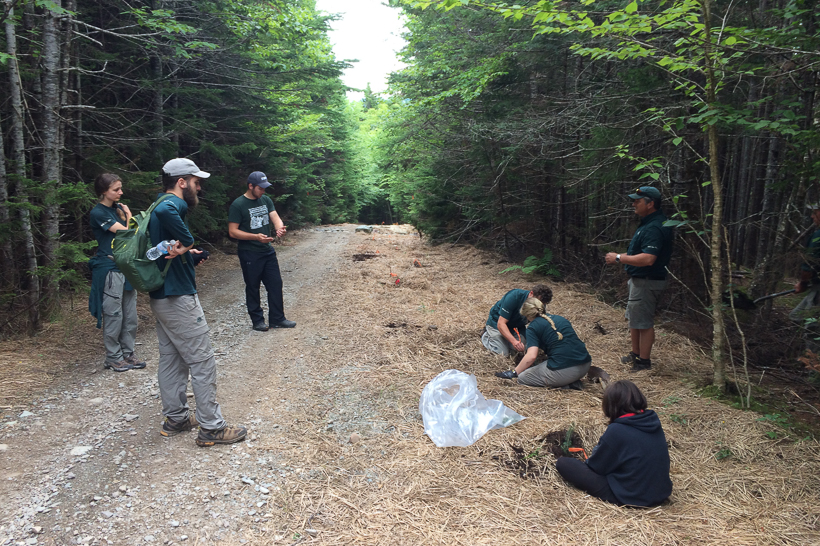 These workshops not only facilitated in house capacity building but also brought together local trail organizations, volunteers, business owners, provincial tourism professionals, and other Parks Canada staff. Quickly the realization was made that not only is trail being built but so is a sustainable trail community.
With new sustainable trail built, old roads and trails must be decommissioned. Traditionally, this was done by simply "roughing up" the trail by moving branches and leaves over the trail to disguise it so to not confuse hikers. Now, Fundy is taking things a step further by restoring the natural slope of the land, loosening the ground and planting trees which in some cases were removed for transplant from the path of the new sustainable trail.
Lessening the footprint of Fundy
With 5 main restoration areas, two road to trail conversions, over 200 transplanted trees and the planting of over 200 more trees native to the area, Fundy is projected to lessen its footprint by about 4%. Making the decommissioning of trails a key factor to Fundy's conservation and restoration.
Reaching our goal together
So far to date, we have:
decommissioned and restored 5380 square meters of trail footprint in the park;
planted more than 600 native trees in restored areas, including 65 red spruce saplings propagated from the oldest Red Spruce in the world found in Fundy;
began re-alignment restoration and decreased erosion of 16.4 km of trail to follow natural landscape contours;
developing new and innovative ways to prevent further spreading of target invasive species like Japanese knotweed;
a total of 52 km of trails will be restored or decommissioned by 2019.
Keep track of the kilometers of trail being restored here!