Lobster Cove Head Lighthouse
Gros Morne National Park
Lobster Cove Head - A Lighthouse and so much more! With a vibrant history, Lobster Cove Head features trails that lead you to coastal environments and tuckamore forests. It is among the top places in the park to fly a kite, spot whales and take in the brilliant colours of the sunset.
How do you want to experience Lobster Cove Head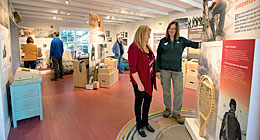 Lobster Cove Head Exhibit -
Open daily May 19 - October 9, 2023, 10:00 a.m. – 5:30 p.m.
Step inside our century old lighthouse that once served as a beacon to safely guide fishermen and sailing vessels into Bonne Bay. Today, it is the gateway for discovering the rich cultural heritage of Gros Morne National Park. Our exhibit highlights the people and heritage of the area, showcasing historical photos, audio recordings of folk songs and lightkeepers logbooks. Take a seat at the kitchen table and chat with our friendly guides about everything from the lightkeepers families to what life is like along this coast.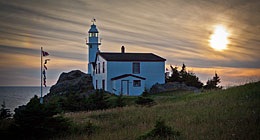 To the Lighthouse - Site introduction – Find times and details for tours.
Discover the story of this historic lighthouse, the families who tended the light, and the headland that people made into a home.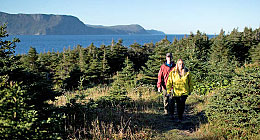 Walking Trails - Wander the headland and explore the winding trails through tuckamore forests. These short trails lead you to hidden outcrops with breath-taking vistas of wide open ocean and rocky beaches. Be sure to have a look at the effect that wind and water has on the trees along the top of the shoreline. At low tide, head to the beach and walk around the headland via several beach access points.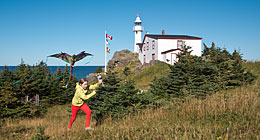 Play - Make your own adventure at Lobster Cove Head: pick up a kite to fly in the fields or to borrow a traditional toy boat to take to the tide pools to make your own adventure at Lobster Cove Head. Bring along a picnic and enjoy the views as you sit back and relax.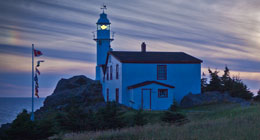 Sunsets - Lobster Cove Head Lighthouse is known as THE perfect spot to enjoy sunsets and an ideal place for photographers who are looking to capture the moment. Even on a stormy day, it's an epic place to watch crashing waves. Who knows, you may just see a whale while you're at it!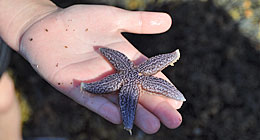 Tide pools - Walk down to Lobster Cove Head's rocky shore and discover the creatures that live in the amazing world of tide pools. Bring the whole family to help search for strange and wondrous creatures: periwinkles, anemones, side swimmers, tiny fish and crabs too. Bring rubber boots since you'll be at the water's edge. Watch for waves and tide coming in.