Broad Cove Campground
Cape Breton Highlands National Park
202 sites; 182 reservable
oTENTik: 6 sites (1 accessible, and 1 with beach view)

3-way service, with fireplace: 47 sites

3-way service, without fireplace: 34 sites

Accessible 3-way site with fireplace: 2 sites

Unserviced with fireplace: 60 sites

Unserviced without fireplace: 51 sites

Accessible unserviced site without fireplace: 2 sites
Operating season: May 19 to October 22, 2023
Broad Cove Campground is your ideal beach getaway, close to the village of Ingonish and situated in a forest framed on one side by a long, sandy beach on the Atlantic Ocean. This stunning ocean setting, combined with world-class hiking trails and an extensive menu of evening activities, will provide memories to last a lifetime.
Wooded and open sections. Showers, flush toilets, kitchen shelters with wood stoves, fire places, playground, geocaching, outdoor theatre, interpretive programs and ocean swimming. Hiking trails, lake swimming and waterfalls nearby.
During the shoulder season you can pay by self-registration or at the visitor centre.
---
Services and facilities
Camping
Wheelchair accessible
oTENTik
Flush toilets
Shower facilities
Picnic shelter
Fire pits
Outdoor theatre
Interpretive programs
Swimming (ocean)
Hiking
Playground
Kiosk
---
Campground map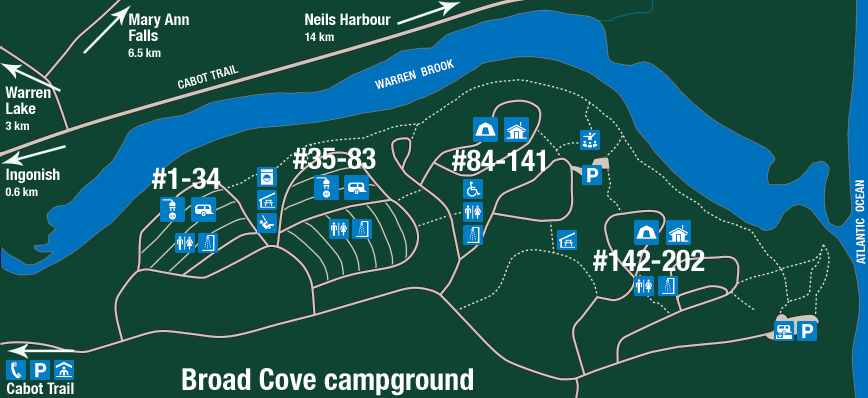 Campground location
35479 Cabot Trail,
Ingonish, Nova Scotia

GPS Coordinates:
Latitude: 46.71009091500
Longitude: -60.36557897410
---
Additional information
About Broad Cove Campground

Operating season (nights):

May 19 to October 22, 2023

Reservable period (nights):

May 19 to October 22, 2023

Kiosk hours:

June 19 to September 7: 9 am to 9 pm
In the spring and fall, register at the visitor centre before 5 pm

After hours registration:

See campground security personnel at kiosk.

Check in time:

Any time after 2 pm
Visitors who would like to arrive at the campground earlier may enjoy the rest of the park while waiting for their campsite to become vacant.

Check out time:

Quiet hours:

Maximum length of stay:

Maximum persons per site:

Six people (exceptions possible for two adults with their dependent children up to a maximum of seven people).
Equipped camping: a six-person tent (recommended for up to four adults, or two adults and up to four children)

Maximum vehicles per site:

One vehicle or two motorcycles
Exceptions for RVs towing a vehicle
Another option is to park a second vehicle in designated area

Maximum camping units per site:

One camping unit (two small tents by exception only — site must be able to accommodate)

Cooking / food preparation:

Cooking is not permitted in the oTENTiks or in the equipped camping tents

Generator policy:

No generator use between 9 pm and 8 am

Amerpage of electrical service:

3-way: electricity (20, 30 & 50 amps), water and sewer
No electricity in the oTENTiks or on the equipped camping sites. Electricity is available in some shelters, washrooms and activity buildings

Fire policy:

Campfires are only permitted in provided fireplaces
Do not leave fires unattended
Firewood is for sale at campground kiosks and visitor centres
Do not move firewood from one region to another. Buy and burn local firewood only to help control the spread of invasive species (i.e. brown spruce longhorn beetle).

Alcohol/cannabis policy:

Alcoholic beverages and non-medical cannabis must remain on registered campsite
No smoking within 20 m of playground. Site 22 is smoke-free.

Pet policy:

Pets must be kept on a leash. Please pick up their droppings.
Pets are not allowed in equipped campsite tents or oTENTiks

Important notices:

15% discount on seven nights or more
48% off seasonal entry pass until June 30 – call the park directly

Fees

For information regarding camping fees for Cape Breton Highlands National Park please see our Fees page.

If there is no vacancy

Usually there is room in spring and fall. In the months of July and August, Broad Cove, Chéticamp and Ingonish Beach campgrounds can sometimes fill to capacity. Serviced sites may fill; however, there are usually unserviced areas available.

Require even more information?

Reservation service:

General park information:

Telephone: 1-888-773-8888
9 am to 9 pm Atlantic Time, April to September
11 am to 7 pm Atlantic Time, October to March

For information on backcountry or group camping:

Terms and definitions

Site-specific

Guests select the specific campsite or accommodation when they make their reservation. All front-country camping reservations made through the Parks Canada Reservation Service (PCRS) are site-specific reservations.

Operating Season (Nights)

The "Operating Season" is the nights that the campground is open. Sometimes the campgrounds are open for longer than the period for which they accept reservations. Any dates of the "Operating Season" outside of the "Reservable Period" are dates that the campground operates on a first come, first served basis only.

Reservable Period (Nights)

The "Reservable Period" is the nights for which you can make a camping or accommodation reservation. Note that many campgrounds may be open longer than this period, and operate outside of these dates on a first-come, first-served basis.

Kiosk

The administration/entrance booth of a particular campground, this is where you "check-in" and register your arrival.

Vehicle

Car, truck, motorcycle, truck-camper, motorhome, or recreational vehicle. A motor home pulling another vehicle may count as two vehicles.

Camping Unit

Tent, tent-trailer, truck-camper, trailer, 5th wheel, motorhome or recreational vehicle.

Serviced Site

Refers to a campsite offering either electrical, water, and/or sewer hook-ups or any combination of these services directly on the campsite. Fully-serviced sites offer electrical, potable water, and sewer hook-ups. "Unserviced" sites do not offer any of these hook-ups.

The terms "serviced" and "unserviced" refer to the individual campsites; they do not refer to the washroom facilities or other amenities available at the campground.

Drive-through Site

Campsite where the driver does not have to reverse their vehicle to exit (there is a separate entrance and exit to the individual campsite). Ideal for larger vehicles and trailers.

Walk-in Site

Campsite which requires some degree of walking to access the site, and therefore requires a tent. Vehicle will be parked a short distance away.

Overflow Site

Overflow campsites vary from park to park, and may range from a paved area to park a camping unit (not generally suitable for tents) to a more traditional, grassy site. They are unserviced and are not reservable.

Accessible Site

A campsite which is accessible to guests with limited mobility.

Firepit

A designated structure for campfires located on a campsite. Check availability, as not all campsites offer a fire pit. In some parks, a fire permit is required to have a fire.

In some parks, only communal firepits are available, and access is shared with other guests.

Fire permit

In some campgrounds, guests will require a valid fire permit to have a campfire. A fire permit may include firewood. Please refer to the 'Fire policy' section of the QRT for individual campground policies.

Firewood

In some campgrounds firewood is sold by the bundle, whereas in others a fire permit may give the holder access to the campground wood pile. Please refer to the 'Fire policy' section of the QRT for individual campground policies.

First-come, First-served Site

Campsites that are available on a first come, first served basis only. These sites are only available to guests who are physically located at the campground. These sites cannot be registered over the telephone or on-line. These campsites may be available for only 1 night or for multiple nights depending on availability.

Shoulder Season

Shoulder season refers to the season before and after the peak season. While many campgrounds remain open outside of their peak season, the services offered during this period may be limited (please check with the park for more details).

Entrance Pass

A valid National Park Entrance Pass is required for all visitors to National Parks that have entry fees.

Daily Entrance Pass

A daily entrance pass permits visitor's unlimited entry to the specified park on a per day basis for the period of time indicated.

Annual/Seasonal Entrance Pass

An annual or seasonal entrance pass permits visitor's unlimited entry to the specified park for the period of time indicated.

Parks Canada Discovery Pass

The Parks Canada Discovery Pass permits visitors unlimited entry to the participating Parks Canada national parks and national historic sites across Canada, for a period of 12 months.
---