Connect with Mi'kmaw culture
Kejimkujik National Park and National Historic Site
Discovering Mi'kmaw culture, traditions, and language
There is a great story in the woodlands, lakes, rivers, bogs, and barrens of Kejimkujik. It is a story 4,000 years in the making. It is equal parts history and legend, and it's here for you to hear it, to see it and to feel it.
Connect with Mi'kmaw Culture at Kejimkujik!
Guided cultural programs
Join a guided walk through time to learn about Mi'kmaw culture by experiencing the petroglyphs on the shores of Kejimkujik Lake.
The petroglyphs are in a restricted area and the tours are the only way visitors can access them.
Enrich your visit to Kejimkujik with a guided tour of some of the 500-plus petroglyphs that are found on-site. Located along the lakeshores of Kejimkujik, these fascinating stone-carved depictions make up one of North America's largest collections and have been vital clues for reconstructing regional history.
Registration required. The number of participants is limited.
Wejisqalia'ti'k – Mi'kmaw encampment
Wejisqalia'ti'k means: "We grew up from the earth". For the Mi'kmaq this word incorporates thousands of years living and respecting their homeland, Mi'kma'ki. Cultivate your connection with the teachings that nature offers while a Cultural Interpreter shares their unique skills and knowledge of this land.
First come, first served. The number of participants is limited.
Birch bark canoe-building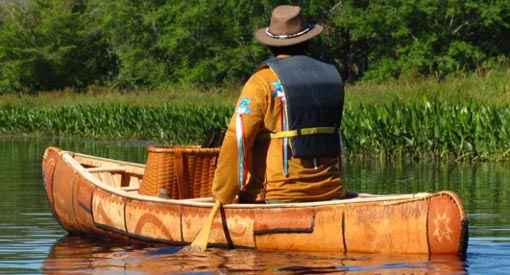 Witness the ancient craft of birch bark canoe-building in person with Todd Labrador and a Parks Canada Interpreter at work right before your eyes.
The canoe is an iconic symbol of the Mi'kmaw cultural landscape and also of the contemporary experience of Kejimkujik. The Kejimkujik Birch Bark Canoe Project highlights the work of master Mi'kmaw craftsman, Todd Labrador, as he builds traditional birch bark canoes in Kejimkujik National Park and National Historic Site.
Meet Todd Labrador
As a seventh-generation Mi'kmaq from the Kejimkujik region, Todd Labrador carefully crafts birch bark canoes with bark, spruce root, and other natural materials that are sustainably harvested in local Acadian Forests. His great-grandfather was a master canoe maker, and Todd taught himself how to build canoes after his own father passed away. Today, Todd Labrador is renowned for his work and is one of the most highly sought after craftsmen for his skills.
Drop-in program.