Find Your Red Chair Moment… at Port Royal!
Port-Royal National Historic Site
We saved you a seat!
Parks Canada has over 200 red Adirondack chairs in peaceful and scenic locations throughout many of the country's most unique and treasured places, including this set found here at Port-Royal.
"…this place was the most suitable and pleasant for a settlement that we had seen."
When Samuel de Champlain wrote these words in the early 1600s, he knew he had found a special place.
Today, Champlain's grand vision lives on at Port Royal.
Visit the Habitation, then enjoy some quiet time in the red chair as you take in the spectacular view of the Annapolis River and Basin – the same view that inspired Champlain's dream a long time ago.
How to find the red chairs at Port-Royal
The red chairs are for you to discover. While some chairs are easy to find, others require more of an adventure.
Find them in the following locations:
Table example with hover rows
Location
Near the river, just past the Champlain monument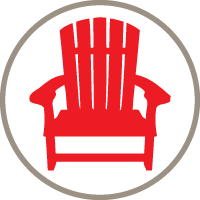 Tag us in your red chair photos
Take a photo and share it with #ShareTheChair
Parks Canada's red chairs: where it all started
In 2011, our friends at Gros Morne National Park came up with the idea to place sets of Adirondack chairs in lesser-known, stunning locations around the park, inviting visitors to enjoy and share on social media. Today, the iconic red chairs can be found in over 100 locations administered by Parks Canada.
Where will your next red chair moment be?
Lightbulb Did you know?
The Parks Canada red chairs are made from 100% recycled plastic saved from Canadian landfills.