Youth Employment Opportunities
Fort George National Historic Site
Are you looking for an exciting opportunity to work in protecting and presenting Canada's natural and cultural heritage?
If so, apply to any of the great opportunities available to work with Parks Canada this summer!
On this page:

Various terms from May to September 2023 available
$18.17 per hour (Salary to be determined at the time of the appointment)
Who can apply: To be eligible, you must be: A student in an accredited institution or a recent graduate in the last 4 months; or someone between the ages of 15 and 30 years old who is a recent immigrant, from visible minority groups, living with disabilities, living with a single parent, living in low-income households, living in rural or remote areas, or facing other barriers to employment.
The exact number of positions available is to be determined.
Opportunities are 37.5 or 40 hours per week
We are committed to providing an inclusive and barrier-free work environment, starting with the hiring process. If you need to be accommodated during any phase of the evaluation process, please use the Contact information below to request specialized accommodation. All information received in relation to accommodation will be kept confidential.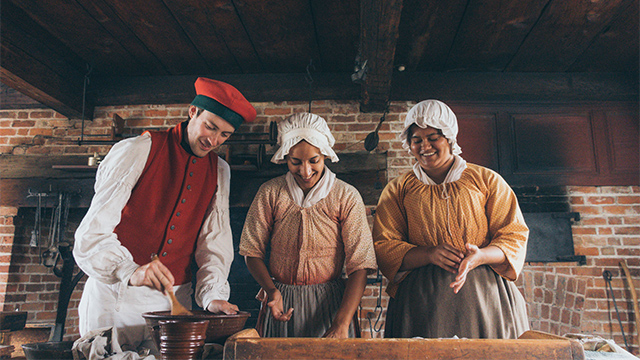 We are currently looking for motivated students and youth between the ages of 15-30 to work in a variety of positions at Fort George National Historic Site in Niagara-On-The-Lake, ON. Serving as the headquarters for the Centre Division of the British Army during the War of 1812, Fort George offers a glimpse into one of the most important chapters of Canadian military history. Don't miss this great opportunity to gain work experience in one of Canada's best National Historic Sites.
SU-01 Grounds Maintenance

Provides general maintenance and labour services working on trails, gardens, grounds, roads and solid waste management and related facilities maintenance; support trades staff in construction and installations; and other general maintenance and repair requirements as directed.

SU-02 Heritage Presenter

Responsible for learning and delivering education programs, presenting interpretive demonstrations, leading guided tours, assisting with the development and presentation of special events, acting as an ambassador for the site (both on-site and off-site), as well as other related activities.
Additionally, working on the site's point of sale system.
SU-03 Visitor Services Attendant

Visitor services and revenue collection at various visitor service locations including visitor centres, entry gates, day use areas and retail locations, to enhance visitor experience. This includes providing comprehensive information to the visiting public on a wide variety of topics including but not limited to: points of interest, safety, park regulations and policies, selling a variety of passes, and properly accounting for revenue received.
In order to be considered, your application must clearly explain how you meet the following (essential qualifications):

Ability to carry out instructions accurately, safely and efficiently;
Ability to communicate effectively and influence others;
Ability to read, comprehend, and communicate Parks Canada messages;
Ability to work cooperatively as a part of a team;
Ability to work in a virtual environment;
Excellent interpersonal abilities (friendliness, tact, responsiveness, enthusiasm);
Sound Judgement;
Initiative;
Dependability.



The following will be applied / assessed at a later date (essential for the job)
Conditions of employment

Reliability Status security clearance;
Depending on the position, possession of a valid class G1, G2 or G driver's license;
Work shift-work, including evening, weekends, and holidays;
Wear a Parks Canada uniform as per the uniform policy and/or dress in period costume as per Parks Canada requirements;
Handle historic weapons and artifacts;
Work outdoors in varying temperatures and inclement weather;
Work and/or travel in varied terrains and by various means of transportation;
Parks Canada prohibits smoking in the workplace;
Email your resume directly to rhugso-sofuhr@pc.gc.ca and please identify which position(s) and site you are interested in. (e.g. SU-01 at Fort George).
Please clearly indicate in your application which position you are interested in. If you are interested in more than one position, please indicate them in order of preference. We may only contact candidates who demonstrated clearly in their resume the skills required for this opportunity.
Please note, that as a diverse employer, Parks Canada encourages students and youth from all backgrounds to apply. Preference may be given to qualified candidates who self-identify as youth facing an employment barrier, including Indigenous youth, visible minority youth, or youth with a disability.
We thank all those who apply. Only those selected for further consideration will be contacted.
The Public Service of Canada is committed to building a skilled and diverse workforce that reflects the Canadians we serve. We promote employment equity and encourage you to indicate if you belong to one of the designated groups when you apply.