Manoomin (Wild Rice)
Trent-Severn Waterway National Historic Site
The Traditional Harvest
The traditional homelands of the Anishinaabeg, including all seven Williams Treaties First Nations, encompasses the vast majority of central and southern Ontario, including the entirety of the Trent-Severn Waterway. The seven Williams Treaties First Nations who call the land surrounding the Trent-Severn Waterway home are: The Chippewas of Rama First Nation, Beausoleil First Nation, Hiawatha First Nation, Curve Lake First Nation, Alderville First Nation, the Mississaugas of Scugog Island, and the Chippewas of Georgina Island.
All of the Williams Treaties First Nations were a highly mobile people who travelled throughout the region to hunt, harvest, and fish. The Anishinaabeg believe that wild rice (Manoomin) as well as the other three sacred foods, corn (Mndaamin), strawberries (Odeminan), and fish (Giigoonkewag), were gifts from the creator. To some of the Williams Treaties First Nations, Manoomin remains an important part of their lives.
The harvesting of Manoomin is as important to First Nations communities today as it always has been and is protected under the authority of their treaty rights. Parks Canada's mandate includes the protection of natural resources on the Trent-Severn Waterway. Parks Canada also has a legal duty to consult with the First Nations in relation to their rights associated with the harvesting of wild rice.
By working with First Nations partners, Parks Canada's goal is to protect the natural resources on the waterway while at the same time balancing the needs of recreational users and respecting Treaty Rights.
---
Wild Rice protection zones
To aid in the protection of wild rice beds in and around the Trent-Severn Waterway navigation channel, Parks Canada has installed signs indicating the boundary of a Wild Rice Protection Zone in Pigeon Lake near the Kerry Line boat launch. Boating and/or illegal harvesting of wild rice in these protection zones is prohibited and subject to fines.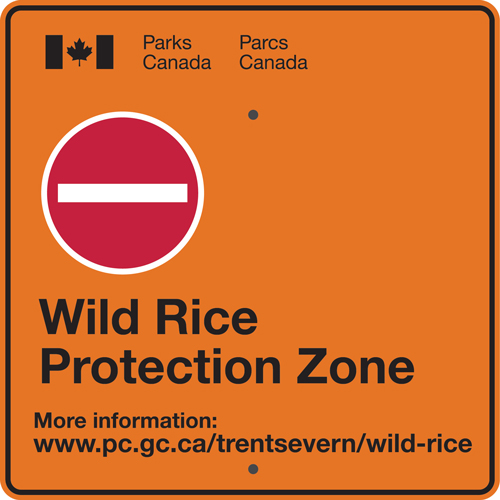 Removing aquatic vegetation - waterfront property
Should waterfront owners wish to remove aquatic vegetation from in front of their property, a permit from Parks Canada is required. This permit is valid for five (5) years and may be obtained by contacting the Trent-Severn Waterway Office of Parks Canada. Some conditions of the permit:
The fee for the 5 year permit, is $52.50
The contractor/landowner is to make all reasonable attempts to harvest and remove the cut aquatic vegetation from the water, and place it upland well above the high water mark
In general, no work will be permitted between March 15th and June 30th (fish spawning time)
The area that may be harvested is 50% of the water frontage to a maximum of 10m (30 feet) wide
Harvesting may extend to 30m (100 feet) out into the water body measured perpendicularly from the shoreline
All harvesting activity will occur during daylight hours
All harvested material must be collected and placed a minimum of 15m (45 feet) upland from the upper controlled water level
Emergent aquatic vegetation must not be disturbed
Logs and rocks on the bed of the lake must not be disturbed
For more information, please visit our page on Managing aquatic vegetation or contact the Trent-Severn Waterway National Historic Site of Canada by phone at: 705-750-4900