Winter Trail
Lachine Canal National Historic Site
With the arrival of spring comes the end of grooming and snow removal operations on the path. Some sections may be icy, snowy or flooded due to changing weather conditions. Please be careful!
Lachine Canal Winter Trail conditions:
Trail conditions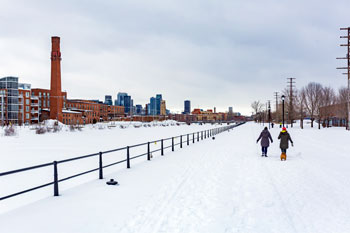 Snowshoeing, on foot, by bike... get outside for a breath of fresh air and enjoy the best of winter!
Winter sports are at the forefront at the Lachine Canal; Parks Canada is proud to launch a winter trail this winter along the waterway.
A 15-km winter trail extending from the Lock No 5 to the Old Port of Montréal enables young and old to enjoy winter's pleasures in the enchanting setting of the Lachine Canal. In addition, this year the Sud-Ouest Borough will be clearing a 2.3 km section of the path on the north side of the canal, between the Atwater Bridge and de la Commune Street.
---
Lachine Canal Winter Trail Map
To view the access points, washroom locations and the route, take a look at the winter trail map.
Download the Lachine Canal Winter Trail map (PDF, 4,4 Mo)
Trail etiquette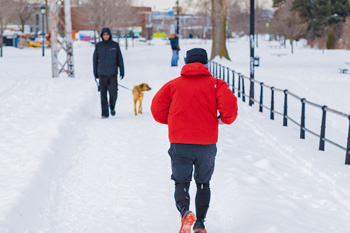 Thank you for respecting our trail and keeping it safe so that everyone can fully enjoy it.
Check the weather conditions before departing
Dogs must be leashed at all times
Pack out all your garbage
Keep a safe distance from the maintenance vehicule and other users
Winter trail grooming and maintenance
Parks Canada has a groomer and a rotating icebreaker (called the "ice crusher"), two vehicles that make it possible to maintain the banks of the canal in winter while limiting the impact on the historic site's infrastructure.
Read the blog post Winter fun on the canal: ensuring safety while respecting the environment, to learn more about the maintenance of the Lachine Canal winter trail.
Grooming frequency
The trail is maintained after each snowfall, weather permitting. Regular grooming will ensure a stable and pleasant surface for walking and other winter activities.
If ice patches form, Parks Canada will use a rotating icebreaker, called the "ice crusher," to break up the patches and will spread a biodegradable traction product to limit slippery areas.
Start of season
Grooming will start as soon as weather conditions permit.
Needed conditions include:
Ground is frozen
Sufficient snow on the ground (*the required thickness varies depending on the terrain and type of snow
Favourable weather forecast
The snow is compacted until the base is in place (15 to 30 cm of packed snow, depending on the ground surface).
End of season
Winter trail is maintained until the end of March, or as weather and snow conditions p<>ermit.
---
Emergencies
If you are calling for assistance using a cell, call 911.