Quick overview
The Fur Trade at Lachine National Historic Site
Less than 30 minutes from downtown Montréal, The Fur Trade at Lachine National Historic Site invites you to an enchanting spot along Lake Saint-Louis. Entering the old warehouse is like travelling back in time for nearly 200 years to relive the Canadian fur epic.
On the Fur Route
Touki the beaver mascot will be pleased to accompany you on this incursion into the Canada of the fur trade era. She will introduce you to the main actors of the fur trade: the famous voyageurs, those intrepid French Canadians who paddled and sang their way across the country, the bourgeois from Scotland and England who hired them, and the Indigenous with whom they traded.
By Master's Canoe
Are you ready to start your journey to the Northwest? The trading goods must arrive in Fort William before summer. A birchbark master canoe is stored away in the warehouse. Its builder, César Newashish, an Attikamek from the Manouane Reserve, followed his ancestors' technique. No nails were used in the craft's construction. The strips of birchbark are sewn with watape or spruce root. The frame is made of white cedar. The entire canoe is waterproofed with spruce resin. Now all you have to do for your rendezvous in trading.
Long Live the Companies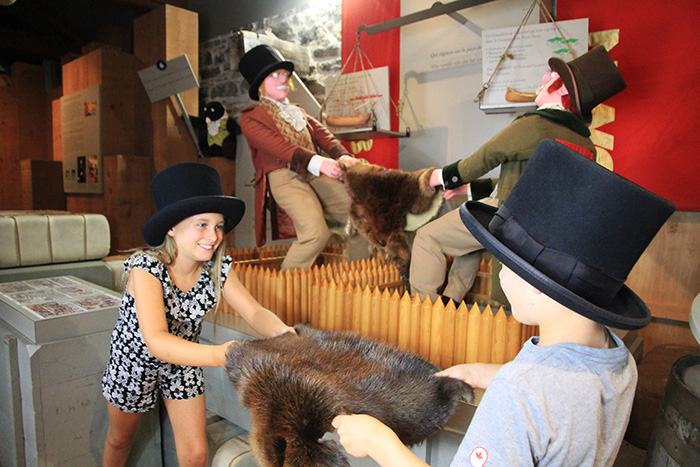 When you hear people talk about the fur trade, the Hudson's Bay Company probably comes to mind. Think again! In the early 19th century, the North West Company was at the head of the fur trade. This business succeeded in cornering 80% of the market. The struggle between the two companies continued, however, until the fateful year of 1821, when the two businesses merged and kept the "Hudson's Bay Company" name. This business still exists. The Bay is actually one of the oldest companies in the world still in operation.
In the Voyageurs' Footsteps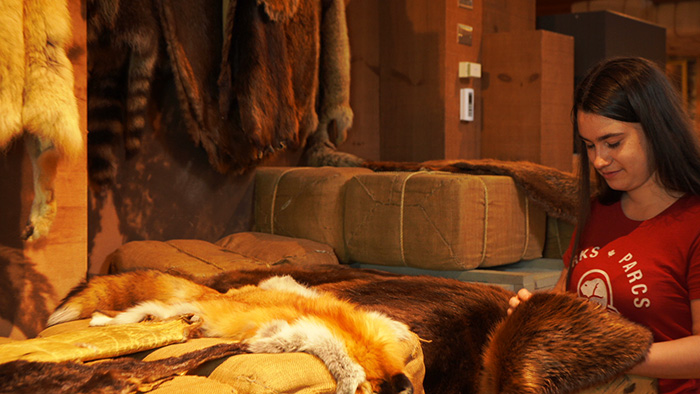 The Fur Trade at Lachine National Historic Site provides visitors a memorable experience. As you move around the pelt bales, crates of merchandise and barrels of food supplies, take in the smell of the furs, and enjoy touching and handling the objects on display.