Interpretive programs and activities 2023
Jasper National Park
Look for the 'Interpreter on-site' signs at high use areas. Strike up a conversation. Ask your questions. Join in a free fun filled activity.
May 19 to September 3, 2023
Wildlife Patrol. Keeping people and wildlife safe since 2010.
Living with Wildlife Interpreters are on patrol starting the May long-weekend. They share ways to keep you and wildlife safe. Look for their distinct van. Follow their advice.

Keep an eye out for Living with Wildlife Interpreters in the campgrounds this summer. Share your wildlife stories and ask them to identify your wildlife photos.
June 30 to September 3, 2023
Join us in town. Create your moment, your way
Drop-in at the Heritage Fire Hall in downtown Jasper. Share highlights of your visit. Join an activity. Ask your questions. Stay as long or as little as you like.

Interpreters are on site daily.
Monday: 9:30 am to 11:30 am and 1 pm to 4 pm
Tuesday: 9:30 am to 11:30 am
Wednesday: 9:30 am to 11:30 am
Thursday: 1 pm to 4 pm
Friday: 1 pm to 4 pm
Saturday: 1 pm to 4 pm
Sunday: 1 pm to 4 pm
Join us at the campgrounds. For big productions, fun activities, and informal talks
Whistler Campground Theatre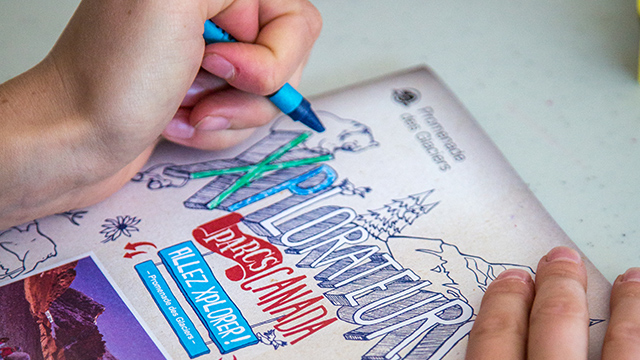 Take in an theatre show, interpretive program or research update at Whistlers Campground. Daily at 7 pm. Not camping? No worries. There is lots of parking and everyone is welcome.

Wapiti Campground Xplorer's Tent (Loop AA)
Hey Kids: Good News! Xplorer Programs are back! Bring a parent to share the adventure Saturday and Sunday at 7 pm.

Wabasso Campground Campfire Circle
On break from Wildlife Patrol, Living with Wildlife Interpreters invite you to join them for a campfire program at Wabasso Campground. Friday, Saturday and Sunday at 7 pm.
How to hike in bear country
Hiking in bear country doesn't have to be scary when staying safe is so easy. Watch a bear spray demo and get pro tips on how to stay safe bear country from Park staff who hike all the time. Thursday through Monday 2 pm to 4 pm at Valley of the Five Lakes trailhead.
New wildlife safety exhibits
We have new wildlife safety exhibits at Whistlers Campground and downtown Jasper. Take a selfie with your favourite wild animal panel. Play the Wildlife Safety Quiz. Share your highlights on social media.