Waterton-Glacier Science and History Week
Waterton Lakes National Park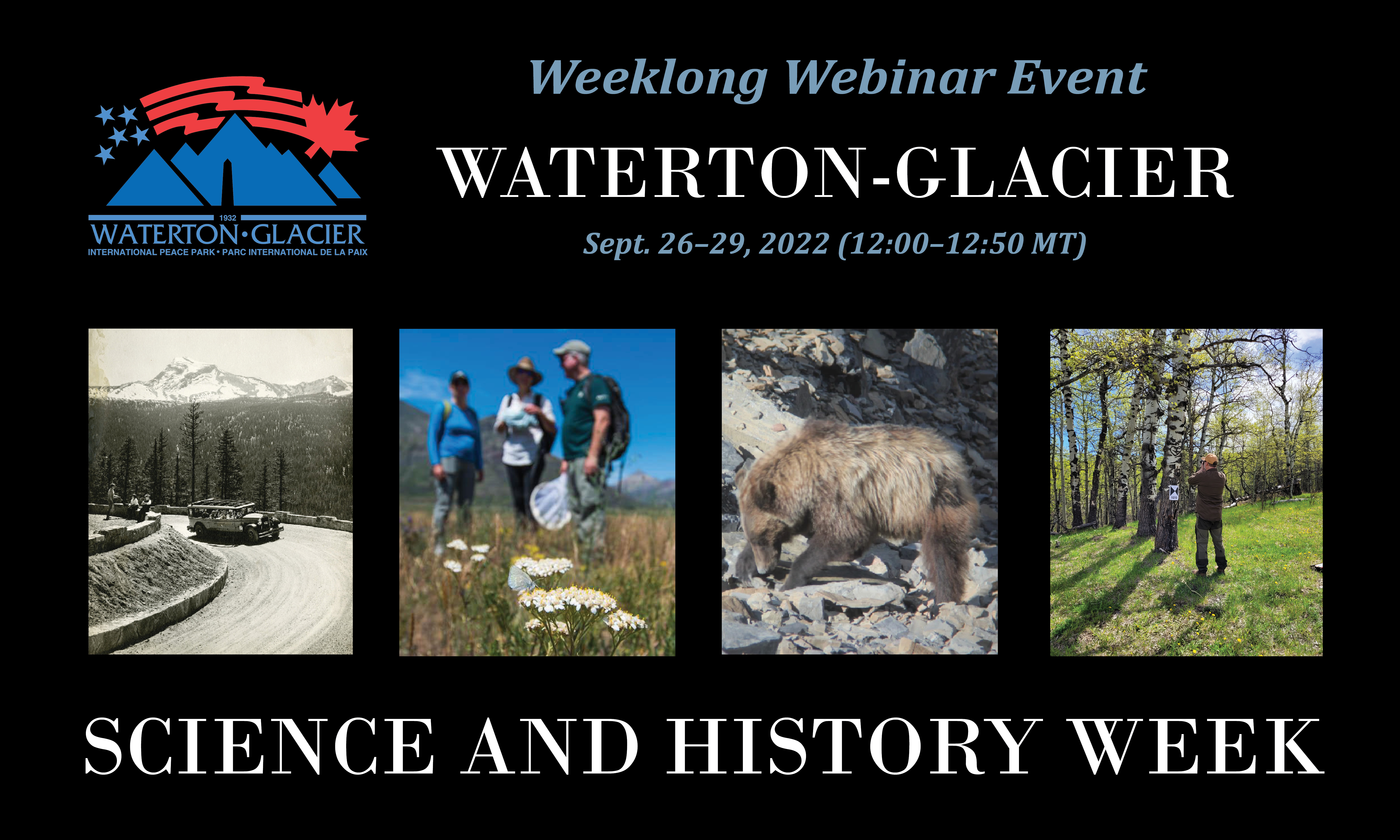 Join Waterton-Glacier International Peace Park for its annual Science and History Week webinar series September 26 - 29 at noon MDT. The Peace Park has jointly hosted an annual Science and History Day since 2004. This September, we are again hosting a free series of live webinars allowing you to participate wherever you may be!
The series will highlight current natural and cultural research topics related to Waterton-Glacier International Peace Park and World Heritage Site. Each presentation will give viewers the opportunity to connect with park scientists and get a unique look at our partnerships, insights, and latest findings.
Each presentation has its own registration link. Use the register here buttons below to register. Once registered, you will receive an email with the details on how to join the webinar.
Science and History Week Presentation Schedule
Monday, September 26, 2022 - 12 p.m. to 12:50 p.m.

The Montana Memory Project: Your Online History Research Resource

Presenter: Jennifer Birnel, Montana Memory Project Director, Montana State Library

This presentation will involve showing off the Glacier National Park photos and Superintendent's reports on the Montana Memory Project website.

A live demonstration will be provided to orient participants to the website and key search functions for historical images or documentation.
Tuesday, September 27, 2022 - 12 p.m. to 12:50 p.m.

The Half-moon Hairstreak Butterfly Recovery Project in Waterton Lakes National Park

Presenter: Dr. James Glasier, Conservation Population Ecologist, Calgary Zoo

The half-moon hairstreak (Satyrium semiluna) is an endangered butterfly with a limited range in Canada. It is found at eight localities in British Columbia and one locality in Alberta. The Alberta locality is in Waterton Lakes National Park on the Blakiston Fan, an area of about 3 km2. In collaboration with Parks Canada and the Sperling Lab at the University of Alberta, the Wilder Institute/Calgary Zoo is working to conserve this endangered butterfly through monitoring its population, removing invasive plants from the fan, assessing habitat, understanding the half-moon's natural history, and through conducting genetics work to understand population genetics. This work aims to conserve and protect the Albertan half-moon Hairstreak population while potentially informing on additional steps that could be taken, such as translocations to reinforce or protect the current population in Waterton Lakes National Park.
Wednesday, September 28, 2022 - 12 p.m. to 12:50 p.m.

Grizzly Bear Use of Army Cutworm Moth Aggregations in Glacier National Park

Presenter: Dr. Erik Peterson, PhD Graduate, Washington State University

Army cutworm moths (Euxoa auxilliaris, ACM), are migratory insects, splitting their annual lifecycle between low elevation plains/basin habitats and high elevation mountain talus slopes. They have a propensity to aggregate in great numbers (like an army) wherever they occur during their annual life cycle. Due to the moths' colossal aggregating habit, talus slopes where ACMs occur present a food buffet for grizzly bears, much like a huckleberry patch, where they can feed on up to 40,000 moths per day (an equivalent of a 20,000 calorie/day diet). For his thesis, Erik evaluated foraging sites across high elevation talus slopes throughout Glacier and assessed key environmental drivers of grizzly bear foraging to refine predictive habitat modeling and quantify the seasonal importance of ACM's to grizzly bear diets in the region.
Thursday, September 29, 2022 - 12 p.m. to 12:50 p.m.

Digitally Preserving Culturally Modified Trees in Waterton Lakes National Park

Presenters: Dr. Peter Dawson, Head. Department of Anthropology and Archaeology, University of Calgary;
Edwin Knox, retired Parks Canada Cultural Resource Management Program Lead - Waterton Lakes.

The study and recording of the Kootenai Brown 1906 - 1913 homestead/cabin location site. The site includes numerous "culturally modified aspen trees", including a Joe Cosley tree ...initials "JC", trademark "heart" and "29" (1929). The recording of "Poplar Grove" was made by Doctor Peter Dawson and his team from the University of Calgary Department of Anthropology and Archaeology using 3-D laser photography, as part of a program of digital preservation of Alberta heritage at risk. The effort includes collaboration with Parks Canada, Nature Conservancy Canada, Waterton Biosphere Reserve Association and the Alberta Heritage Conservation group. The original homestead cabin still stands - a feature of the pioneer museum in Pincher Creek.