Environment
Waterton Lakes National Park
Nature's meeting place
Forests, prairies, mountains and lakes all meet in Waterton Lakes National Park. Our park is the smallest of the mountain national parks, at 505 square kilometres (195 square miles).
We may be small, but we're big in ecological diversity! More than 1000 vascular plants call our park home – that's over half of all plant species in Alberta. This incredible diversity is in part to the coming together of multiple ecosystems. The warm, windswept habitats of our park allow for amazing ecological diversity.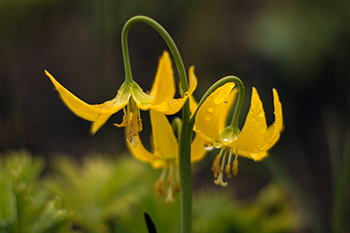 Our park has four ecoregions - foothills parkland, montane, subalpine and alpine. Plants normally found in prairie grasslands can grow throughout different ecoregions – even on mountaintops. All of our park's ecoregions are home to wildlife in all shapes and sizes.
Waterton is at the narrowest point of the Rocky Mountains, on the Lewis Thrust fault. This fault line has given us the abrupt meeting of mountains and prairies.

Our park's land is in a constant state of change – shaped by avalanches, flooding and fire. Our mountains experience weather patterns from the east and the west, making us one of the wettest and windiest places in Alberta! Rain and melting snow flow east into the Saskatchewan River system, through northern forests and into Hudson's Bay.
Our goal is for visitors to enjoy visiting our park, without harming its diverse environments. Protecting ecosystems requires balance, planning, research and partnerships with our neighbours and visitors.