Avalanche information
Waterton Lakes National Park
Much of Waterton Lakes National Park and most of its trails are avalanche terrain. Backcountry travellers are responsible for their own decisions and safety.
Consult the avalanche terrain ratings below to help determine if your planned objective is suitable for you. Use these ratings along with the Avalanche Bulletin (issued from December 1 to April 15) to make an informed decision.
If your trip is in avalanche terrain, you will need:
Training to recognizing avalanche terrain and understand the avalanche hazard.
Avalanche rescue equipment: avalanche transceiver, probe and shovel combined with companion rescue training.
Visitors should be aware that periods of avalanche hazard may still exist in Waterton Lakes National Park outside of the regular winter season.
Be aware that there are specific travel restrictions that apply to custodial groups (those which include minors without their legal guardians) between Nov 15 and April 30.
Post wildfire avalanche hazard
Treat burnt forests like open alpine slopes. Increased wind effect and slab formation, and continuous weak layers in the trees are to be expected. Larger, more frequent avalanches in existing paths and new avalanche paths are possible in burned areas.
---
Avalanche terrain ratings for trails in Waterton Lakes National Park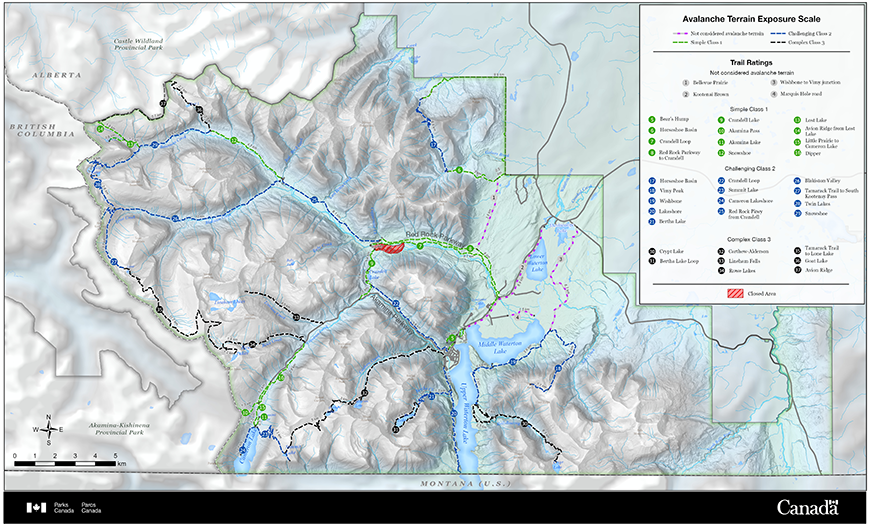 Avalanche terrain ratings - Text version

Trail ratings

Not considered avalanche terrain

Bellevue
Kootenai Brown
Wishbone to Vimy junction
Marquis Hole Road

Simple Class 1

Horseshoe Basin
Crandell Loop
Red Rock Parkway to Crandell
Crandell Lake
Akamina Parkway to Rowe
Akamina Pass
Akamina Lake
Snowshoe
Lost Lake
Avion Ridge from Lone Lake

Challenging Class 2

Horseshoe Basin
Vimy Peak
Wishbone
Lakeshore
Bertha Lake
Crandell Loop
Summit Lake
Cameron Lakeshore
Akamina Parkway from Rowe
Red Rock Parkway from Crandell
Blakiston Valley
Tamarack trail to South Kootenay Pass
Twin Lakes
Snowshoe

Complex Class 3

Crypt Lake
Bertha Lake Loop
Carthew-Alderson
Lineham Falls
Rowe Lakes
Tamarack Trail to Lone Lake
Goat Lake
Avion Ridge
---
Avalanche Terrain Ratings for Waterton Lakes National Park




Not considered avalanche terrain

Bellevue trail
Blakiston Fan horse trails
Golf course trails
Wishbone trail to Vimy Peak junction

Akamina Parkway: Entrance gate to Rowe Lakes trailhead
Akamina Pass
Akamina Pass to Forum Lake
Bear's Hump trail
Cameron Lake ski trail to the lake
Crandell Lake
Crandell Loop trail along Red Rock Parkway
Dipper trail
Horseshoe Basin trail - Bison Paddock to Galwey Creek
Linnet Lake trail
Park Line trail
Red Rock Parkway
Red Rock Canyon to Goat Lake junction
Snowshoe Cabin to Castle Divide and Lost Lake
Yarrow to Oil Basin patrol trail

Akamina Parkway: Rowe Lakes trailhead to Cameron Lake
Akamina Pass to Wall Lake
Bertha Lake trail
Blakiston Valley trail to South Kootenay Pass junction
Boundary trail
Cameron Lakeshore trail
Crandell Loop trail along Akamina Parkway
Forum Ridge
Goat Lake junction to Snowshoe Cabin
Horseshoe Basin trail from Trail Creek to Oil Basin
Lakeshore trail
Snowshoe Cabin to Twin Lakes and Sage Pass
South Kootenay Pass trail
South Kootenay Pass junction to Lone Lake
Summit Knob to Cameron Lake
Summit Knob to Boundary Creek
Summit Lake trail from Cameron Lake
Twin Lakes to South Kootenay Pass junction
Vimy Peak trail
Wishbone trail from Vimy junction to Crypt landing

Akamina Lake chutes (The Fingers)
Carthew-Alderson trail
Bertha Lake Loop trail
Crypt Lake trail
Goat Lake trail, including Avion Ridge to Castle Divide
Lineham Falls
Rowe Lakes
Rowe Basin to Lone Lake
Rowe Bowl / Peak (CV 13)
Avalanche Terrain Exposure Scale (ATES)

| | | | |
| --- | --- | --- | --- |
| | Description | Class | Terrain criteria |
| | Simple | 1 | Exposure to low angle or primarily forested terrain. Some forest openings may involve the run-out zones of infrequent avalanches. Many options to reduce or eliminate exposure. No glacier travel. |
| | Challenging | 2 | Exposure to well defined avalanche paths, starting zones or terrain traps; options exist to reduce or eliminate exposure with careful route finding. Glacier travel is straightforward but crevasse hazards may exist. |
| | Complex | 3 | Exposure to multiple overlapping avalanche paths or large expanses of steep, open terrain; multiple avalanche starting zones and terrain traps below; minimal options to reduce exposure. Complicated glacier travel with extensive crevasse bands or icefalls. |

How much experience do I need for these trips?

Terrain requires common sense, proper equipment, first aid skills, and the discipline to respect avalanche warnings. Simple terrain is usually low avalanche risk, ideal for novices gaining backcountry experience. These trips may not be entirely free from avalanche hazards, and on days when the Backcountry Avalanche Advisory is rated 'Poor', you may want to re-think any backcountry travel that has exposure to avalanches – stick to groomed x-country trials or within the boundaries of a ski resort.

Terrain requires skills to recognize and avoid avalanche prone terrain – big slopes exist on these trips. You must also know how to understand the Public Avalanche Bulletin, perform avalanche self rescue, basic first aid, and be confident in your route finding skills. You should take an Avalanche Skills Training Level 1 course (AST 1) prior to travelling in this type of terrain. If you are unsure of your own, or your group's ability to navigate through avalanche terrain – consider hiring a professional ACMG certified guide.

Terrain demands a strong group with years of critical decision making experience in avalanche terrain. There can be no safe options on these trips, forcing exposure to big slopes. A recommended minimum is that you or someone in your group should have taken an Avalanche Skills Training Level 2 course (AST 2) and have several years of back country experience. Be prepared! Check the Public Avalanche Bulletin regularly, and ensure that everyone in your group is up for the task and aware of the risk. This is serious country – not a place to consider unless you are confident in the skills of your group. If you are uncertain – consider hiring a professional, ACMG certified guide.
Know before you go
Will your group be travelling in avalanche terrain?
Does your group have the skills, knowledge and training to travel in avalanche terrain?
Are you carrying transceivers, shovels and probes?
Can you self-rescue? Do you have a plan?
Do you know the emergency number?
Have you checked the current avalanche bulletin and weather forecast?
Have you checked out with someone?
Do you have any other route options?
Phone numbers
Emergency number with cell phone: 911 (state that you are in Waterton Lakes National Park)
Backcountry emergency number with satellite phone: 1 403 762 4506
Remember, cell phones are not always reliable in the backcountry.