Volunteer opportunities
Gulf Islands National Park Reserve
We value the generous contribution of time, effort and skills made by everyday Canadians just like you. We invite you to share in our work, get behind the scenes, learn something new and make a difference. See below for ways you can get involved.
Ecological restoration
|
Volunteer campground hosts
|
Other Parks Canada opportunities
---
Ecological restoration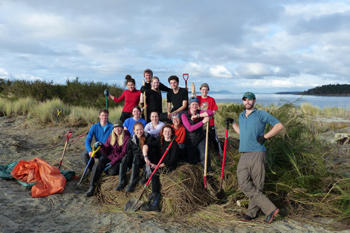 Parks Canada undertakes a number of restoration activities at Gulf Islands National Park Reserve that are designed to restore unhealthy natural areas back to health. These activities include removing invasive plant species from endangered Garry oak ecosystems and replacing them with native ones, restoring traditional First Nations clam beds or "gardens", and cleaning garbage and debris from our beaches and shorelines.
Who we're looking for
You are reasonably fit and can undertake a moderate degree of physical work.
You're willing to work outside in varying weather conditions.
You are comfortable travelling in boats.
What you'll be doing
Depending on the activity, tasks include:
Carrying equipment and supplies.
Moderate lifting, digging and use of small hand tools such as loppers.
Cutting and pulling invasive plants from the ground; planting native plants.
Picking up garbage from shorelines.
Monitoring and research work including recording field data onto forms and taking photographs.
Entering data into computer spreadsheets.
How you'll make a difference
You'll be contributing to the restoration of ecological integrity and helping to preserve and protect the unique and threatened ecosystems of the Gulf Islands, including the Garry oak ecosystem.
What's in it for you?
Learn about ecological restoration and monitoring.
Gain valuable field experience and build your resume.
Work in the stunning island environment of the Gulf Islands National Park Reserve.
Work alongside like-minded individuals.
Time commitment
A few hours to a few days.
Most activities take place between April and November, but some are year-round.
For more information email or call us at
---
Volunteer Campground hosts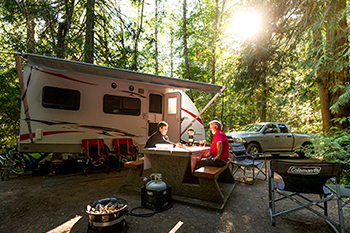 Campground hosts provide a friendly, welcoming face to visitors at SMONEĆTEN Campground. Whether they're recommending a visitor experience in the park, or helping to contact park staff in an emergency, Campground Hosts help make visitors from around the world feel at home.

If you are an experienced camper interested in sharing your love of the outdoors, please consider joining us this season. Minimum stay is 2-weeks, and applicants who are available for longer periods may be given first choice of dates.

Hosts are selected on a first-come-first-served basis, following a successful application process. To apply, contact us.
Who we're looking for
Friendly and approachable personalities.
Contagious love of the outdoors, camping and people.
Experience camping.
Knowledge of the Gulf Islands, Sidney and Greater Victoria area.
Willingness to represent Parks Canada values and key park messages.
Willingness to take part in training prior to volunteer duty.

Hosting experience in other parks is an asset.
First aid certification is an asset.
Ability to speak a second language is an asset.
What you should know
The Campground Host program runs

between May 15 and September 30.

A complimentary host campsite is provided.

Campground hosts need to provide their own self-contained camping unit (tent trailer, trailer or other recreational vehicle).
What hosts do
Walk through the campground twice a day.
Make themselves available to greet and assist campers each day from 11:00 a.m. to 1:00 p.m., and each night from 5:00 p.m. to 10:00 p.m.
Provide information and brochures to campers and explain park regulations when necessary.
Assist campers with self-registration.
Encourage good camping practices.
Assist campers during an emergency by contacting Parks Canada staff.
Keep records of activities and make recommendations for improving the host program.
What hosts do not do
Collect fees or handle money
Register guests or issue campsite permits
Reserve campsites
Enforce park regulations
Perform maintenance or repairs
Contact us for more information.
---
Other Parks Canada opportunities
Click on the links below for information on opportunities at other Parks Canada places on Vancouver Island, in the Lower Mainland and across the country.

Pacific Rim National Park Reserve
Fort Langley National Historic Site
Fort Rodd Hill & Fisgard Lighthouse National Historic Sites
Gulf of Georgia Cannery National Historic Site
National volunteer opportunities