Highway 5: Construction update
Wood Buffalo National Park
Paving project completes resurfacing of Highway 5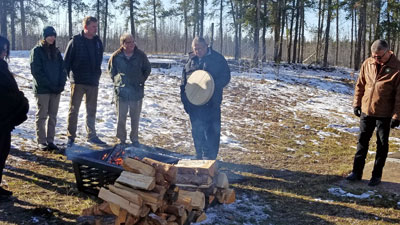 Chief Roy Fabian of the Katlodeechee First Nation says a prayer to open the Highway 5 celebration ceremony on October 13 in Wood Buffalo National Park.

Wood Buffalo National Park is pleased to announce that construction on Highway 5 has ended and the route through Canada's largest national park is now fully paved.
Opened in 1966 as a gravel road, the Highway passes through the northern part of Wood Buffalo National Park and connects the community of Fort Smith to the NWT Highway System. The highway was paved over the past number of years from both the north and the south end but a 64-kilometre portion in the park remained unpaved. This past summer Parks Canada funded a $27 million construction project to complete the chip sealing.
Michael McLeod, Member of Parliament for the Western Arctic, joined Parks Canada staff, Indigenous leaders, and community leaders at a ceremony in the park on October 13, 2017, to formally reopen NWT Highway 5 as a fully paved road.
"As we celebrate the 150th anniversary of Confederation, the Government of Canada is proud to invest in improvements to this important highway corridor that traverses Wood Buffalo National Park," said Mr. McLeod.
"Through infrastructure investments in trails and highways, Parks Canada is encouraging Canadians to connect with nature, while supporting local economies, contributing to growth in the tourism sector, and strengthening the appeal of national parks as destinations to celebrate our nation. Parks Canada is proud to work with nearby communities, such as Hay River and Fort Smith, and local Indigenous peoples to help grow local tourism and create jobs. I encourage Canadians to take advantage of the improved access to Wood Buffalo National Park and experience the park's natural and cultural treasures."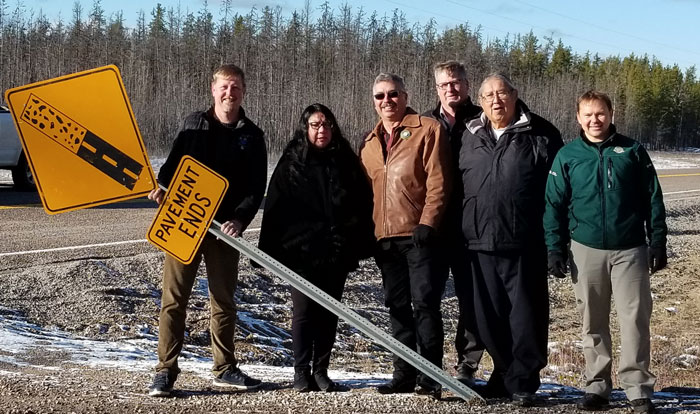 Local dignitaries joined Park staff to celebrate the reopening of NWT Highway 5 as a fully paved road. As part of the celebration, the dignitaries helped park staff remove the "pavement ends" sign from the highway. Left to right: Fort Smith Deputy Mayor Kevin Smith, Salt River First Nation Chief Frieda Martselos, Western Arctic MP Michael McLeod, Hay River Mayor Brad Mapes, Katlodeechee First Nation Chief Roy Fabian and Wood Buffalo National Park Superintendent Cam Zimmer.
Mr. McLeod was joined at the ceremony by Chief Roy Fabian of the Katlodeechee First Nation and Chief Frieda Martselos of the Salt River First Nation. The highway passes through the traditional territory of both First Nations. He was also joined by the Mayor of Hay River, NT and the Deputy Mayor of Fort Smith, NT, the two communities connected by the highway. The dignitaries joined together to ceremonially remove the "pavement ends" sign from the highway.