Populations status of Atlantic Puffins and Razorbills
Mingan Archipelago National Park Reserve
ROBERGE, B. 1999. État des populations de Macareux moines (Fratercula arctica) et de Petits Pingouins (Alca torda) de la réserve de parc national de l'Archipel-de-Mingan . - 1997. Parcs Canada, Service de la conservation des ressources naturelles, Unité de gestion de Mingan. 33 p.
ABSTRACT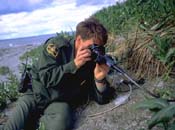 The Atlantic Puffin ( Fratercula arctica ) and Razorbill ( Alca torda ) populations of the Mingan Archipelago are highly prized by birdwatchers, but remain vulnerable to a wide variety of natural and human pressures on the ecosystem. A 1997 study by the Parks Canada Natural Resources Conservation Service provided a snapshot of the status of the Atlantic Puffin and Razorbill populations in the Mingan Archipelago National Park Reserve. An inventory of nests and burrows and a count of birds in attendance was conducted in the Atlantic Puffin and Razorbill colonies to provide an estimate of their populations. The experimental use of a fibroscope allowed researchers to evaluate the fecundity of Atlantic Puffins on île de la Maison with a minimum of disruption. The Atlantic Puffin and Razorbill populations have risen constantly since the park was created in 1984. The Atlantic Puffin population grew from 156 couples in 1985 to 576 in 1997, while the Razorbill population grew from 18 couples to 109. These improvements may have been helped by the increased availability of prey fish due to intensive commercial fishing as well as by better seabird conservation programs. The fecundity of the Atlantic Puffin population on île de la Maison was high at 0.8 egg/burrow. However, fledgling success was not measured, and may have been affected by gull predation. The fibroscope technique has a 90% accuracy rate in evaluating fecundity. It causes little disruption 94% of the time and disturbs the habitat less than conventional methods. Atlantic Puffins and Razorbills exhibited astonishing reproductive behaviour, including puffins nesting in burrows and interspecies competition. The Mingan Archipelago National Park Reserve offers good potential for expansion of the these populations. The reintroduction of Atlantic Puffins into abandoned colonies could also be envisaged as a way of restoring the integrity of the Mingan ecosystem. However, various threats such as gull predation, poaching and the disruption of colonies by human activities may have an impact on the populations. Measures to monitor and protect the colonies such as controlling tourist and boat activities near the colonies and raising public awareness are vital to ensuring the long-term survival of these marvelous Atlantic Puffin and Razorbill populations.
This report is available at the Regional Library of Parks Canada in Quebec (in French).