Populations status of Black-legged Kittiwakes
Mingan Archipelago National Park Reserve
ROBERGE, B. 1999. État des populations de Mouettes tridactyles (Rissa tridactyla) de la réserve de parc national de l'Archipel-de-Mingan - 1996 . Parcs Canada, Service de la conservation des ressources naturelles, Unité de gestion de Mingan. 23p.
ABSTRACT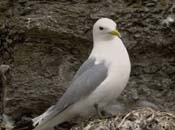 The Black-legged Kittiwake ( Rissa tridactyla ) population of the Mingan Archipelago National Park Reserve declined dramatically between 1988 and 1993. An inventory was conducted in 1996 to verify the status of the Black-legged Kittiwake population of the Mingan Archipelago. The number of occupied nests was counted and fecundity was measured. There were fifteen active colonies in 1996, five of which were new. The Black-legged Kittiwake population grew from 469 couples in 1993 to 1,128 in 1996. This increase could be linked to the abundance of prey fish such as capelin and sand lance, possibly due to the overfishing of commercial species and the migration of individual birds from colonies in the Gulf of St. Lawrence. In 1996, most Kittiwake colonies in the Mingan Archipelago showed no increase in numbers, with the exception of six nesting sites. In sample colony sites, fledgling success was estimated at 1.08 per/nest on île du Fantôme south-west, 0.60 for Petite île Sainte-Geneviève and zero for Pain de Sucre . The total increase in the Kittiwake population was estimated at approximately 631. Predation by gulls and common ravens, destruction of nests and, very likely, food availability were factors that limited fecundity. Fluctuations in the Mingan Kittiwake population since 1998 may be linked to variations in available food supplies, resulting in a lower fledgling success rate. Recommendations have been made to ensure the monitoring and conservation of the Black-legged Kittiwake population of the Mingan Archipel.
This report is available at the Regional Library of Parks Canada in Quebec (in French).