Red chairs
Grasslands National Park
We saved you a seat!
Parks Canada has placed over 200 red Adirondack chairs in peaceful and scenic locations throughout many of the country's most unique and treasured places, including the 7 sets found here at Grasslands National Park.
Grab a friend, go for a walk then relax and snap a selfie on one of our red chairs. Each location immerses you in the landscape and its history. Whether it's a place to rest after a leisurely stroll or the marker at the end of a strenuous hike to announce "I've Made It!", our red chairs offer a place to slow down, to relax and to truly discover the best that Parks Canada has to offer.
How to find the red chairs in Grasslands National Park
At 7 enchanting locations, 3 in the West Block and 4 in the East Block of Grasslands National Park, you can find our big red Adirondack chairs waiting to be discovered. While some chairs are easy to find, others require more of an adventure.
Find them in the following locations:
Red chairs in Grasslands National Park
Location
Coordinates
Belza Day Use Area – West Block
N 49º 09.185' W 107º 30.791
49.15309, -107.51318
Borderlands Lookout – West Block
N 49º 01.455' W 107º 14.193
49.02425, -107.23656
Broken Hills Trail – West Block
N 49º 09.057 W 107º 34.284
49.15100, -107.57172
Gateway to the Grasslands – East Block
N 49º 03.912' W 106º 31.458
49.06519, -106.52431
Ta Sunka Watógla – East Block
N 49º 0.999' W 106º 33.366
49.01665, -106.55610
Zahurksy Point – East Block
N 49º 02.235 W 106º 31.811
49.03725, -106.53018
Valley of 1000 Devils – East Block
N 49º 02.399 W 106º 34.723
49.03998, -106.57872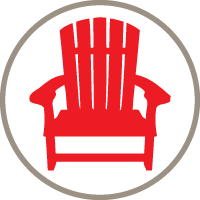 Tag us in your red chair photos
Take a photo and share it with #ShareTheChair
Parks Canada's red chairs: where it all started
In 2011, our friends at Gros Morne National Park came up with the idea to place sets of Adirondack chairs in lesser-known, stunning locations around the park, inviting visitors to enjoy and share on social media. Today, the iconic red chairs can be found in over 100 locations administered by Parks Canada.
Where will your next red chair moment be?
Lightbulb Did you know?
The Parks Canada red chairs are made from 100% recycled plastic saved from Canadian landfills.