Museums
Prince Albert National Park
Prince Albert National Park Nature Centre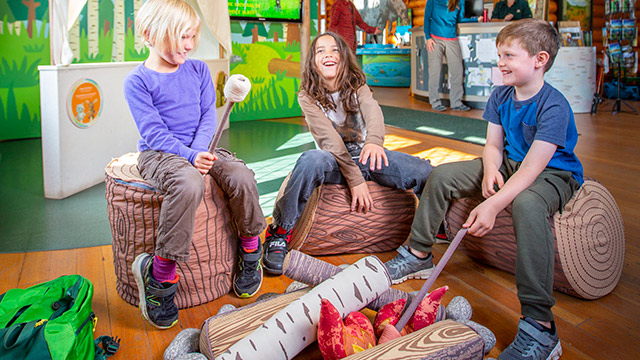 Come get reacquainted with the Nature Centre, or discover its wonders for the very first time! This beautiful heritage building houses interactive exhibits that will guide you in learning about the park's natural and cultural heritage using all of your senses. You can explore the three major ecosystems of Prince Albert National Park – lakes and wetlands, grasslands, and boreal forest – and learn about the critters that call these places home! The Nature Centre is also a place for learning about the rich Indigenous cultures and history that existed here long before the national park was created.
The Nature Centre is located on Lakeview Drive in Waskesiu. While the exhibits are self-guided, Parks Canada staff are available to answer questions and provide suggestions about which trails to hike or lakes to paddle as you seek the wild nature of the park.
---
Waskesiu Heritage Museum and Friends of the Park bookstore
Sharing space in the historic warden's headquarters building is the Waskesiu Heritage Museum and the Friends of Prince Albert National Park book store.
Waskesiu Heritage Museum
The Waskesiu Heritage Museum shares the history of the park and Town of Waskesiu since Prince Albert National Park was officially opened in 1928. Outdoor exhibits at the museum feature a canvas roof shack tent, a fire tower cupola and a railcar portage. Interior exhibits highlight generations of life in the park, including boating, fishing, golfing, dancing and more!
The Friends of Prince Albert National Park bookstore
Along with new and used books, crafts and art that highlight the natural and cultural heritage of the park, you will find a replica of Grey Owl's cabin, also known as Beaver Lodge. A room was designed using interior photographs of Beaver Lodge taken when Grey Owl was living in the cabin at Ajawaan Lake and offers a rare glimpse into the life of one of Canada's earliest environmentalists.