Engineer's Property
Fortress of Louisbourg National Historic Site
This stately house was one of Louisbourg's most imposing homes. The military engineers who lived and worked here were town planners, architects and construction engineers all in one – their influence pervades the town. The royal engineers laid out the streets and blocks, planned the fortifications and outlying works, and designed all the colony's public buildings. Consulted on all scientific and technical issues, they even influenced military tactics in the sieges.
Étienne Verrier (1683-1747) was chief engineer here from 1725 to 1745. For most of those years his wife and daughter remained in France, and Verrier sometimes spent the winter there. The two sons who had accompanied him here assisted his work, so the air of the residence is masculine and professional, except in the kitchen where the cooking creates a warmer atmosphere. Ask them what's cooking.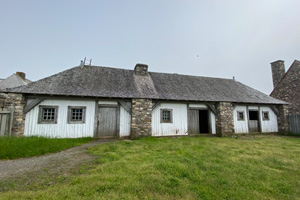 The garden is formal, combining vegetable beds, herbs and some flowers in geometric patterns and varied shades of green. Not every garden was so elaborate, but each was appreciated for the fresh food it added to a dried and salted diet. Beyond the garden are a laundry and stables and a poultry yard.
Étienne Verrier was criticized for his siege craft and he vastly overspent his estimates to build his house, but if you appreciate the aesthetic flair of Louisbourg and its public architecture, give the designer his due.
---