Meet the Southern Rockies Watershed Project
Waterton Lakes National Park
Water scientists working on the Southern Rockies Watershed Project (SRWP) have been studying streams and rivers to determine the effects of wildfire and forestry in Alberta's south-west Rocky Mountains since the 2003 Lost Creek Wildfire in Crowsnest Pass. In 2018, they started studying the effects of the Kenow Wildfire on waters in Waterton Lakes National Park.
---
Written by Erin Cherlet
Field Supervisor, Southern Rockies Watershed Project
What are we doing in Waterton Lakes National Park?
After the Kenow Wildfire, the Southern Rockies Watershed Project started monitoring streams in and north of Waterton Lakes National Park.
The main goals are to evaluate how the wildfire has affected streamflows and water quality of fire-impacted creeks.
Streamflow and water quality are important factors in assessing the impacts of the wildfire on aquatic ecosystems including plants, insects, and fish.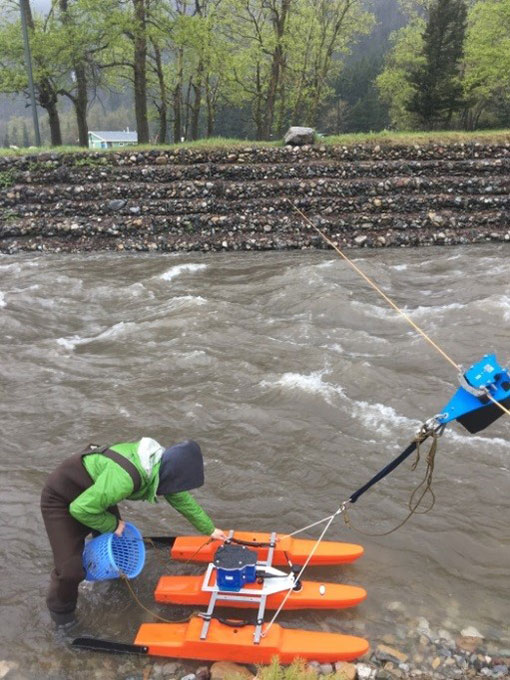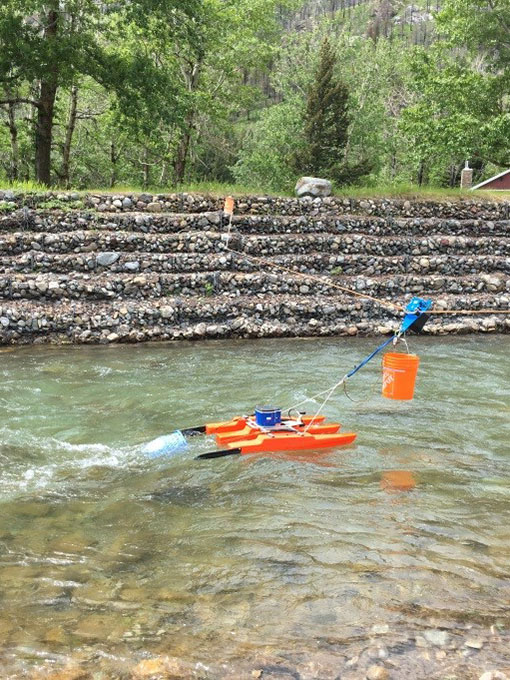 To do this, we have installed monitoring instruments in six spots along burned streams in Waterton Lakes National Park, and in three areas of unburned streams outside of the park to compare with the burned streams.
Every two weeks (at least, sometimes more often) we head out and download data collected at all of our instruments. These give us continuous streamflow and water temperature data.
We also take a manual measurement of streamflow, measuring how much water is passing through a specific area of the creek at a point in time.
Finally, we collect water samples to analyze a large suite of water quality parameters such as sediment, nutrients, and trace elements.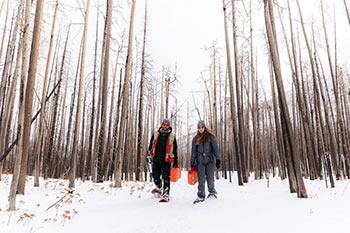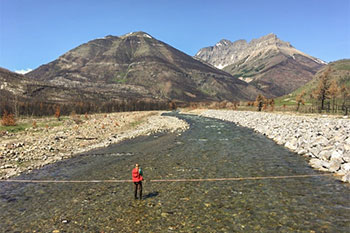 Fires can impact water quality
When a wildfire burns through a landscape, it creates large quantities of charred material and ash containing carbon and other fire-transformed natural compounds.
These materials can wash from hillslopes into local streams, especially after major snow melt periods or rain storms. This can increase the concentration of fire-transformed compounds in local streams.
The SRWP collects water samples to measure how much of these materials are being adding to the streams. We are most interested in the dark-coloured water you may have seen after a long period of heavy rain.
This is when the most sediment and ash ends up in the stream and we see the largest changes in water quality.
Fires can impact streamflow
Because trees and plants help regulate snowpacks and how much rain soaks into the soil, undisturbed forests play a large role in regulating streamflow.
This is the reason streamflows can change after a wildfire and sometimes lead to very high water levels and strongly flowing creeks – usually carrying ash with it.
Why does all of this matter?
Documenting how the fire has affected streamflows will help Parks Canada evaluate how changes in flows might affect both stream health and infrastructure in Waterton Lakes National Park.
Evaluating these impacts, along with changes in water quality after the fire, will also help Parks Canada to assess fire effects on aquatic health of the creeks and lakes in the park.