Cycling
Kouchibouguac National Park
Kouchibouguac's 60 kilometres of bicycle paths are ideal for gentle exploration. Pedal along well-maintained gravel-topped trails that lead past striking fields of wildflowers, multifaceted peat bogs, saltwater lagoons and grand Acadian woodland.
Alongside the Kouchibouguac River, natural formations of Sandstone Garden invite Zen-like relaxation—and make sure to get a photo of the famous Leaning Pine. Later, search for the "bridge under the bridge"—a less-travelled route traversing the meandering Black River. Popular Major Kollock Trail leads mountain bikers past bogs, through woodland and atop sand on a varied-terrain adventure.
Numerous rest shelters dot the crisscrossing routes. Directional signs are plentiful. Equal parts active and relaxing, this is some of Atlantic Canada's finest riding.
Fat bike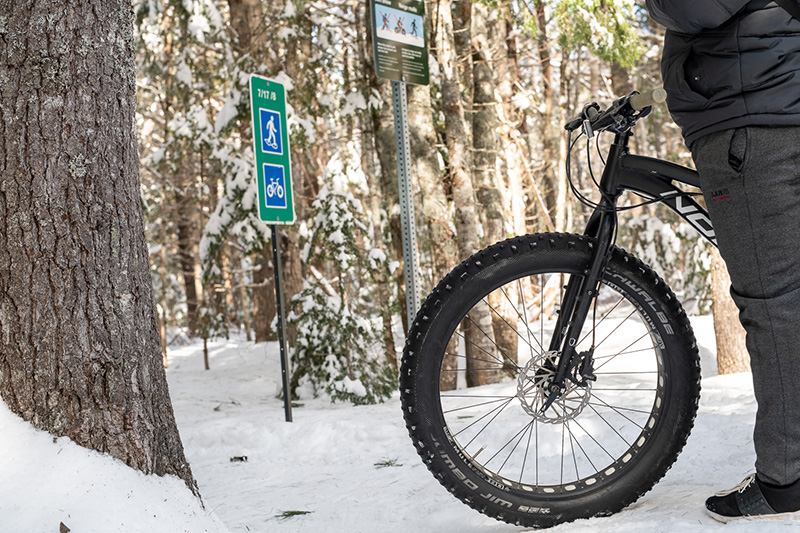 A fat bike is a bicycle with over-sized tires on wide rims. They are designed to ride on soft unstable terrain like snow and sand. They are a special type of bike that accommodate a much wider tire, often ranging from 3.5 to 5 inches in width.
The park grooms fat bike trails in the winter, making Kouchibouguac a year-round cycling destination.
Additional Notes
Bikes are not permitted on the beach, dunes or coastal areas (beach, lagoons and rivers).
Rest areas and pit toilets are located along the bike path in the central area of the park.
Signage and location maps are scattered throughout the trail system.
Fat bike users must stay on the bike trails.
Yield for snowshoers and cross-country skiiers at intersections (they do not have brakes).
Avoid blocking your rear tire (skid).
If you are renting your fat bike at Kouchibouguac National Park, we recommend that you use a bike rack on your vehicle for safe transportation.