Group adventures
Georgian Bay Islands National Park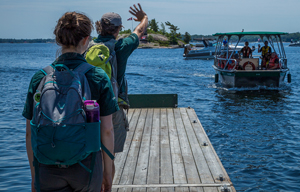 Available to groups of 8 to 20 persons, from mid-May to Thanksgiving.
Fall is one of the best time of the year to discover the island. Get the best of those lovely days by exploring the hidden beauty of Beausoleil Island with a Parks Canada interpreter. Choose your own group adventure by booking one of the following hikes*.

Short Hikes
Shoreline guided hike

1.5 km (1-1 ½ hour)
Level: Easy
Catch a glimpse of the island's natural beauty on the gentle paths and boardwalks along the lively Cedar Spring shoreline. This hike is ideal for groups looking for a short tour with ample opportunities to view wildlife.
Treasure Bay trek

3-4 km (2 hours)
Level: Easy to Moderate
Amazing wildlife and buried treasure are said to be hiding along the shores of Treasure Bay. Seek the hidden and not-so-hidden treasures of the island on this relatively short hike from the Visitor Centre to Tonch Pont.
South Island adventure

6 km (2-3 hours)
Level: Moderate
This medium- distance hike will leave you wanting more! Explore the remote southern tip and western shores of the island. Pass through majestic forests to the rugged outside edge of the island before reaching the lookouts on the ancient smooth drumlin hill core.
Fairy Lake hike

4 km (2 hours)
Level: Moderate
This moderately rugged guided hike takes you along the rocky shores around Fairy Lake. Discover this beautiful and wildly inspiring region with an interpreter who will lead you to places that showcase the powerful influence this area had on the Group of Seven landscape painters.
Long Hikes
Cambrian Trail and Fairy Lake

7 km (3-4 hours)
Level: Moderate
Hike the shores of Chimney Bay and Little Dog Channel before heading back towards Fairy Lake through an enchantingly rich valley. Revel in the beauty as you complete your journey around the Canadian Shield, passing by the picturesque Honeymoon and Goblin Bays.
Chimney Bay to Lighthouse Point (Lighthouse Point from the north) (Loop)

10 km (3-4 h)
Level: Moderate
See it all! Transition between one Canadian landscape to another as you travel from the Canadian Shield to the northern edge of the Great Lakes St. Lawrence Lowlands of Southern Ontario and back again. This long distance hike will leave you inspired.
The Georgian Trail trek (Loop)

13 km (4 h at a fast pace)
Level: Difficult
The most challenging of our hikes, this adventure leaves you breathless and bemused when you find yourself at Lighthouse point looking out on the deep waters of Georgian Bay. Recommended for those with a high fitness level.
Ramble around the north
Contact us by email or 705-526-8907 to book your next adventure!

Price: $73.60 / hour
*Hike challenges vary. Distance and time are estimated and dependent on the fitness and intentions of the group. Reservations are required 14 days in advance. Daytripper not included, please call Parks Canada to discuss transportation options.