Ôasis
Mingan Archipelago National Park Reserve
An Ôasis of happiness
Looking for a cool place to stay? You want to live a unique experience, simple, hassle-free, and in some of the most amazing places in Canada? Parks Canada now offers the Ôasis in a few select national parks. The Mingan Archipelago National Park Reserve Ôasis is located on Île du Havre and on Grande Île.
Make it a memorable family experience or couple's getaway in a tear drop-shaped "duplex", with a convertible table/bed on the main level and suspended hammock loft above. Be at the forefront of the Mingan Archipelago's most spectacular landscapes with a roof to shelter you!
Spend the night in one of our six drop of heaven!
Visit the fees page
Campgrounds
Île du Havre and La Grande Île also offer the possibility to spend the night in frontcountry camping.
Equipment and facilities
To facilitate your stay and allow you to experience nature and the great outdoors in total comfort, the Ôasis accommodation is equipped with the following: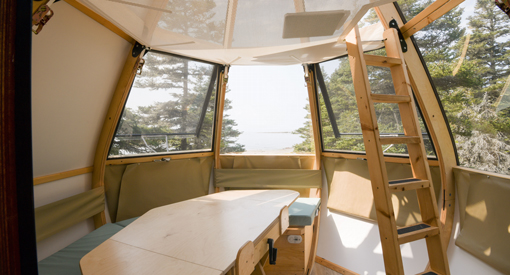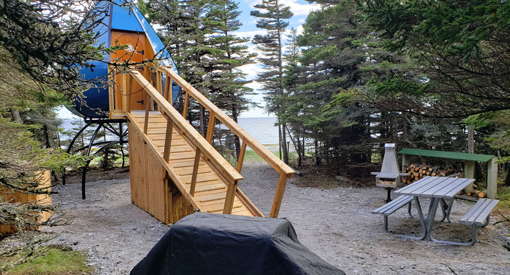 Inside the Ôasis
A fold-up table with benches which transforms into a bed
A hammock loft mezzanine were two children under 12 of age or one adult can sleep (less than 180 kg)
Solar panel lighting
Propane heating
Fire extinguisher, carbon monoxide/smoke detector
Broom and dustpan
Dishpan
Kettle
Charging station for small electronic devices (USB port)
LED rechargeable lantern (USB)
Outside the Ôasis
Barbecue with side burner (propane included)
Barbecue brush
Camping toaster
Storage unit
Two camping chairs
Cooking fireplace
Picnic table
Nearby
Dry toilet
Shelter with firewood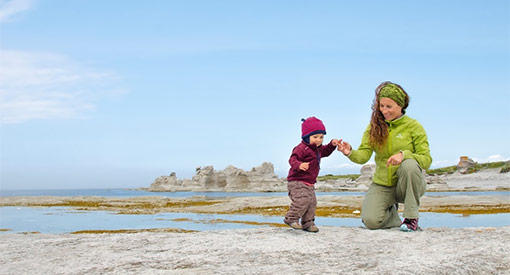 What to bring*
In addition to your food, drinks and personal effects, plan to bring the following equipment:
Sleeping bags, blankets and pillows
Cooler
Matches or a lighter
Drinking water (water on the islands is NOT potable)
Cooking equipment, dishes and eating utensils
The kit of kitchen supplies is not available for rent this season.
*This list is not exhaustive.
For your convenience and enjoyment, don't forget:
Binoculars
Camera
Water bottle
Warm clothing
Rugged footwear
Insect repellent and sunscreen
Flashlight
Hiking trails leaflets (available at the Reception and Interpretation Centre)
A little axe to make firewood chips
Activities to do in the archipelago
During your stay, you could take advantage of several activities offered in the Mingan Archipelago:
Dates of operation
The Ôasis accommodations are open from mid-June to mid-September. To know the exact dates of operation or to make a reservation before or after these dates, contact us by phone at 418-538-3285 or by email at archipeldemingan-minganarchipelago@pc.gc.ca.
Important
The islands are only accessible by boat. If you do not own a boat to get there, it is strongly recommended to make an early reservation with local boat operators (transportation fees will apply). See the list of Maritime Transport Services.
A camping permit is mandatory and ONLY available in our Reception and Interpretation Centres in Havre-Saint-Pierre and Longue-Pointe-de-Mingan.
There is no restaurant services or drinking water on the islands.
Bring enough food and drinking water for two extra days (2 litres / day / person), maritime conditions may prevent the boat operators to pick you up the day it is supposed to.
Check-in time: 3:00 p.m.
Check-out time: 11:00 a.m.
Quiet period: 11:00 p.m. to 7:00 a.m.
Capacity: two adults and two children
To avoid accidental fires, it is NOT permitted to use candles or other open flamme devices inside the Ôasis.
Smoking is NOT permitted in the Ôasis.
For safety reasons, cooking is NOT allowed inside the Ôasis. Please, cook outdoors at your site.
The Ôasis must be cleaned prior to departure
Rules that apply to the other campground sites also apply at the Parks Canada Ôasis.