Paddling
Prince Albert National Park
Water Safety is a shared responsibility.
Please review the following water safety information to ensure each adventure near or on the lake is a safe one.
Canoe, kayak or stand-up paddleboard
The hushed ripple of your paddle plying the water, the rush of water past your boat, the satisfaction of reaching your destination and the breathtaking scenery along the way; this is what is waiting for you on the waters of Prince Albert National Park.
The lakes and rivers of Prince Albert National Park offer great paddling adventures for experienced and novice paddlers alike. Whether you prefer to stand-up paddle board at your favourite beach, kayak on a gentle river or paddle your canoe across a large lake. No matter what vessel you prefer, paddling in Prince Albert National Park will leave you with memories to last a life time.
Always wear a certified life jacket or personal flotation device (PFD) when recreating on any water body.
Stay close to shore and use pleasure crafts at own risk as beaches and open water are not patrolled.
Be self-reliant and prepare to self-rescue should any boat, canoe or kayak capsize as help may not be immediately available. This includes wearing an approved life jacket or personal floatation device (PFD).
Cellphone coverage varies by carrier and may not be available in remote areas of Prince Albert National Park. It is important that you and your companions are prepared for any emergency or delay that may arise.
Prepare for potentially strong winds and waves on lakes as weather can change quickly. Check forecasted weather conditions before departure.
Watercraft rentals
Don't have your own paddling craft or need extra space for your group? Water craft rentals are available in Prince Albert National Park. Contact the Waskesiu Chamber of Commerce for more information.
Paddling routes

There are a number excellent paddling routes in the park to discover and enjoy. From short paddles and day trips to overnight backcountry excursions, your next paddling adventure is waiting in Prince Albert National Park. Contact the park Visitor Centre for more information on the following paddling routes:
Short trips
Amiskowan and Shady Lakes
Spruce River
Trippes Beach to King Island
Waskesiu River
Hanging Heart Lakes
Overnight trips
Before you go:
See the water safety page for more information
Be prepared for all emergencies!
Remember to wear a life jacket at all times
Review the weather conditions and important bulletins before you go. If you are planning on camping overnight you will need to acquire a camping permit.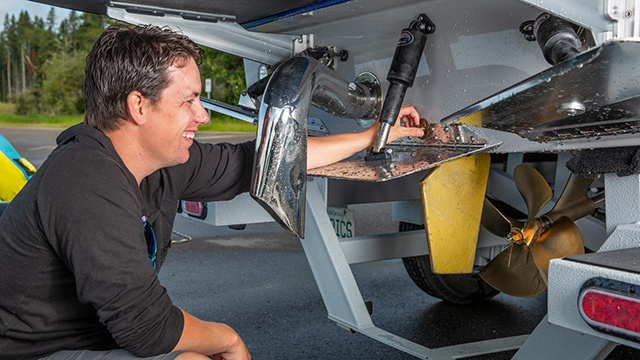 In collaboration with partners, park management is working hard to keep aquatic invasive species like zebra mussels out of the park's lakes and rivers. Learn more about how you can help!
Contact the Visitor Centre staff for up-to-date reports or to learn more about visitor safety.
Canoeing opportunities in Prince Albert National Park.