Camping
Kejimkujik National Park and National Historic Site
Kejimkujik offers a variety of camping experiences including roofed accommodations (oTENTik, Ôasis, rustic cabin, and yurt), front-country campsites for tents, trailers, and RVs, group camping, and backcountry campsites accessible by hiking or paddling. Learn more about Jeremy's Bay campground, Jake's Landing, and Jim Charles Point.
Kejimkujik National Park and National Historic Site, including Kejimkujik Seaside, reopens Wednesday, September 20 at 2pm.
Reopening details
No bridge at Jakes Landing
Please note: The Jakes Landing floating bridge will not be in place for the 2023 season.
There is no trail connection between Jeremy's Bay Campground and Jakes Landing to Merrymakedge and beyond.
Reservations
Camping is available from Victoria Day weekend (mid-May) to the end of October. Camping is not permitted from November to April.
Parks Canada Reservation Service
1-877-RESERVE (737-3783)
Outside of North America: 519-826-5391
Cost: See prices
Beginning April 15, 2023, contact kejimkujik@pc.gc.ca with your potential dates and group information.
We will contact you for confirmation and payment.
Cost: See prices
Exploring Kejimkujik with Live Life in Tents!
Kejimkujik: A Family Experience
Upgrades and improvements
The five new heated Ôasis units, and the heated and newly insulated oTENTik tents and rustic cabins at Jim Charles Point, now with mattresses, are ideal options for cozier shoulder season visits. Visitors are still encouraged to bring warm clothing and sleeping bags during the shoulder seasons.
Ten new modern and inclusive washroom and shower facilities feature an accessible, barrier-free design to meet the needs of diverse visitors. The new facilities are gender neutral, designed for improved privacy and personal security. The facilities are larger for improved comfort and are strategically placed, reducing travel distance to showers.
Camping experiences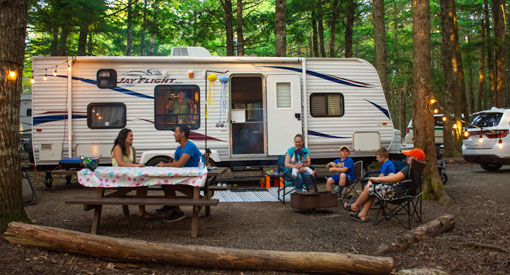 Campsites for tents, RVs, and trailers:
Meadow loop (154 campsites)
Slapfoot loop (100 campsites)
Jim Charles loop (89 campsites)
Ten oTENTik together in a village
Near washrooms, showers, running water, and dishwashing sinks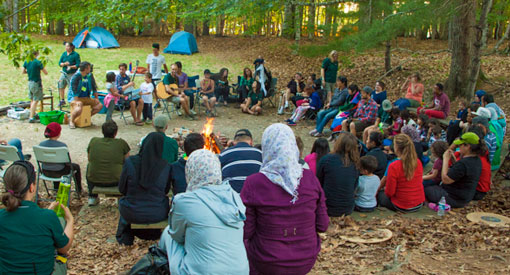 Four group campsites with multiple tent pads
Eight oTENTik together in a village
Five Ôasis
Three rustic cabins
Near washrooms, showers, running water, and dishwashing sinks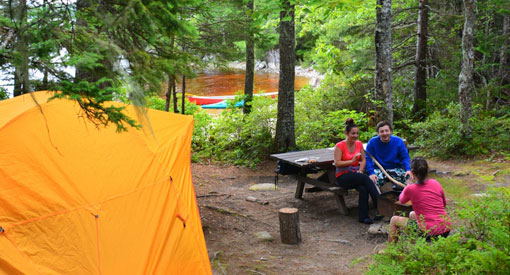 Canoe/portage, hike, or bike to your site
46 campsites for tents
Two rustic cabins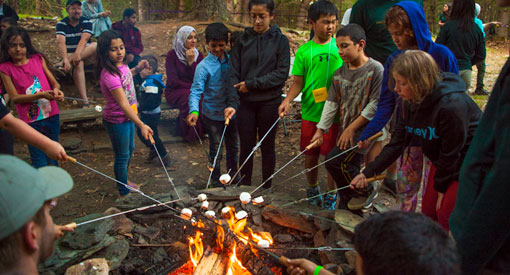 Four group campsites with multiple tent pads
Located at Jim Charles Point
Near washrooms, showers, running water, and dishwashing sinks
---
Roofed accommodations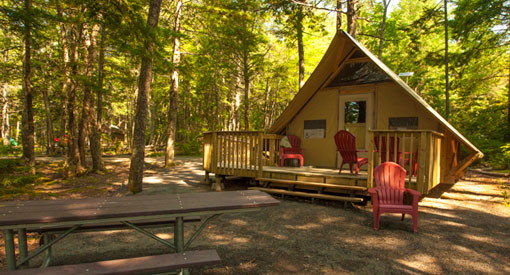 Ten oTENTik in the Jim Charles Loop (one accessible, two pet-friendly)
Eight oTENTik at Jim Charles Point (two accessible, one pet-friendly)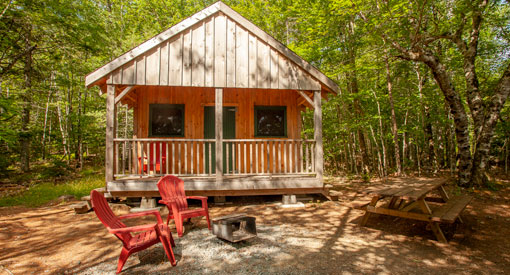 Two rustic cabins in the backcountry
One rustic cabin at Jake's Landing
Three rustic cabins at Jim Charles Point
---
Be prepared
You are responsible for your own safety. Be prepared for changing weather conditions, be aware of hazards, and have adequate information and equipment to ensure a safe visit.
Current advisories, warnings, and closures
Visitor safety
Prepare for your activity with AdventureSmart
---
Are you interested in camping but don't know where to begin? The Parks Canada Learn-to Camp program equips you with the knowledge and skills you need to feel confident planning and carrying out your first camping adventure.
Kejimkujik National Park Seaside