Swimming
Point Pelee National Park
For your safety, please supervise children closely, never swim alone, and never swim at the Tip.
Take a refreshing swim at Point Pelee, which boasts the longest continuous natural beach in Essex County. Enjoy the smooth sand and build sandcastles on the west and east sides of the peninsula framed by 20km of sandy beach.
Northwest Beach and West Beach are two of the most popular beach access areas, which offer washrooms, change rooms and picnic facilities. See our map for access locations.
Swimming Safety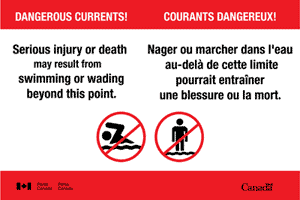 Do not enter the water at any of the park's beaches during strong wave surges as undertows and rip currents can endanger even strong swimmers.
To avoid tragedies, it is illegal to enter the water beyond the posted red warning signs at the park's most southern tip area. Capture that moment of standing at the most southern point of mainland Canada safely from the sand or forest's edge.
To ensure that the water at public beaches is safe for swimming, the Windsor-Essex County Health Unit monitors public beaches on a weekly basis throughout the summer and provides beach count for Northwest Beach at Point Pelee. Call the Beach Hotline at 519-258-2146 ext. 426 or check the beach count online for updates on Lake Erie water quality results.

Once the E.coli bacteria count exceeds 100 (E.coli/100 ml) swimming is not recommended. If the E. coli count is higher than 1000, it is NOT SAFE for swimming and the beach is CLOSED.
For more information on natural hazards, weather conditions, and planning a safe activity, please see our Visitor Safety page.