Team Up and Clean Up
Lachine Canal National Historic Site
Monday, June 6, 2022
Borrow a shoreline cleanup kit now!
A clean-up of the banks of the Lachine Canal in the Atwater area was held on Friday, June 3. In all, about 30 participants, including Pro-Vert staff and volunteers, gathered at Hangar 1825 to take part in the launch of the "Team up and clean up the shore!" program, a national initiative to keep the nation's shorelines clean, free of litter and to limit plastic pollution.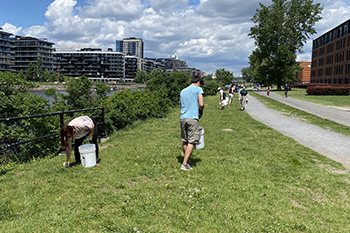 For just over an hour, participants collected hundreds of cigarette butts, multiple single-use plastic containers as well as some discarded building materials. In all, a total of 61.1 kg of waste was removed from the banks within a radius of approximately 1 km. This waste was then sorted with the help of Pro-Vert employees for recycling or disposal.
Together, we will help make the shorelines safer for both wildlife and humans.
Want to do your part? From June 4 to October 10, visit one of the five locks of the Lachine Canal and ask a Parks Canada employee for a cleanup kit during your visit. Then, take a walk along the banks and pick up any trash you see, including plastic. If you find something sharp or a syringe, do not pick it up! Instead, notify an employee who has the necessary equipment to dispose of it safely.
Record each item collected on your data sheet, included in your kit. With this simple gesture, you are participating in citizen science and contributing to research on marine waste. Collecting data amplifies the long-term impact of your actions; this valuable data helps Parks Canada identify and mitigate sources of canal side litter.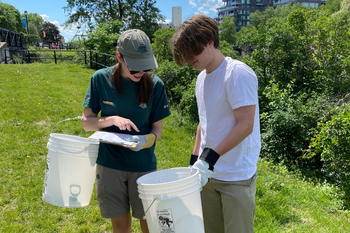 The final step in the activity is to bring your garbage, borrowed materials and your data sheet to a Parks Canada staff member at the same location where you picked up the collection kit.
Thank you for taking care of this place that we love! You are in a National Historic Site. Remember to look after the natural and cultural heritage around you!