New electric vehicle
Lachine Canal National Historic Site
Monday, August 9, 2021
Parks Canada has long been committed to providing tangible solutions to reduce greenhouse gas emissions when you visit our national parks, national historic sites and marine conservation areas.
Did you know that more and more Parks Canada sites across the country are installing charging stations managed by field teams? The great outdoors is now accessible to electric vehicles in most provinces and territories. These charging stations make it possible for the Agency to better serve visitors who have chosen to drive electric vehicles and are part of the ongoing greening of Parks Canada's operations and the fight against climate change. A win-win scenario for everyone!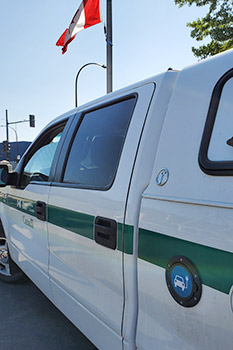 Now at the Lachine Canal
In the spring of 2021, the maintenance team at the Lachine Canal National Historic Site went green by acquiring a pickup truck converted to an electric vehicle. A nice addition to the team's fleet of vehicles, which will be used daily for waterway and lock maintenance operations and will travel throughout the Parks Canada canal system in Quebec.
The pickup truck will be able to plug into the new charging stations that will soon be installed at the Lachine Canal Workshops, which will be for the exclusive use of employees. Two charging stations will be installed at the entrance of the Carillon Canal National Historic Site, located in the Laurentians, for use by both employees and visitors to the site.
Ready to take the next step for the environment? Transportation accounts for one-quarter of Canada's greenhouse gas emissions, almost half of which come from cars and light trucks. Electric vehicles make it possible to significantly reduce greenhouse gas emissions. Be a pioneer in environmental protection; every little bit helps!