Public Art at the Hangar 1825
Lachine Canal National Historic Site
Friday, October 2, 2020
Urban art lovers and Lachine Canal enthusiasts will be pleased to learn that a mural has been created during the month of September 2020. Hangar 1825, a newly added building in the north link of the Lachine Canal between Lock No. 3 and the Atwater Footbridge, now houses a unique work by artist Ankhone. The mural will be a veritable landmark. It covers all four sides of the building and is visible from the water for boaters and kayakers, as well as from the banks.

Parks Canada worked with Kolab on this project. Eager to learn more about the artist and his work? Rewatch the Facebook Live with the always nice Ankhone to discover his inspirations, his concept and his vision about public art.
The Lachine Canal, a source of inspiration
Among other things, the concept developed by the artist echoes the experiences of visitors to the canal—experiences that are unique and specific to each person. For some, the canal has been and continues to be a place of innovation; for others, it is an oasis of nature in the heart of the city. The mural also reflects the atmospheres and impressions that the place creates. The work is articulated in a subtle balance between evocation and reverie. A timeless and poetic universe will come to life before our eyes. Everyone will be encouraged to use their imagination to create their own story.
To express this vision, Ankhone and his team used a brush and roller, a pictorial approach that, according to his research, does not seem to have been used in the creation of murals in Montréal.
About the artist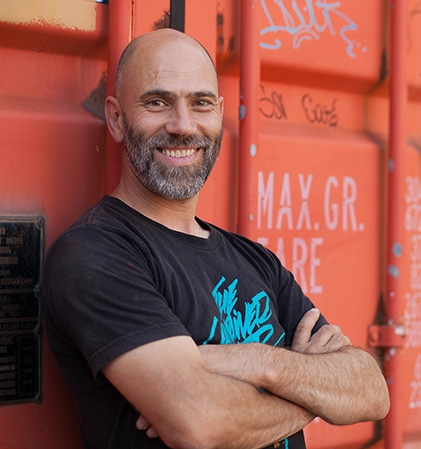 Native from Grenoble, nestled at the foot of the French Alps, Ankhone started doing graffiti on the walls of his city in the early 90's. In 1999, his expressive style earned him a degree in graphic design from the École Supérieure d'Arts Appliqués of Troyes. Mastering these newfound institutional techniques, he gradually transposed his pictorial and graphic work to painting, without ever breaking the link to the graffiti culture that motivated this progression. A style he later defines as "poetry in motion".
In 2001, still in France, he joined the reputed Parisian collective, "9e Concept" and worked as art director for Graff-It magazine. In 2010, Ankhone came to Canada for the first time and decided to move to Montreal one year later. His first contracts in Canada include designing sets for movies such as Tom à la Ferme and Juste la fin du monde of Quebec infamous producer Xavier Dolan. Ankhone has been a member of the Ashop Crew since 2013 and has kept working for Ashop Productions since then.
Discover more about Ankhone's work
About KOLAB
KOLAB is a non-profit organization created in 2015 by Ashop Crew founding artists, to promote civic participation through urban arts and to contribute to the professional development of emerging artists. Its mission is to make art accessible to everyone, to bring positive change through it and to create a sense of belonging to the community. The organization is involved, amongst others, in the Montreal urban arts scene and offers emerging artists the opportunity to participate in major projects under the mentorship of fellow professional peers. KOLAB provides them with a creative space, the necessary material and resources to develop their practices. KOLAB brings together, awakens, supports and enlightens Montréalers' daily lives in their reclaiming of urban space.