Take a ride on the first cyclo-pedestrian roundabout of Montréal!
Lachine Canal National Historic Site
Monday, July 27, 2020
Since July 2020, cyclists and pedestrians have been able to use the first roundabout specially designed for cyclists and pedestrians.

As a result, users of the Lachine Canal path will benefit from new approaches to the Sir-George-Étienne Cartier footbridge and the very first cyclo-pedestrian roundabout on the Island of Montréal!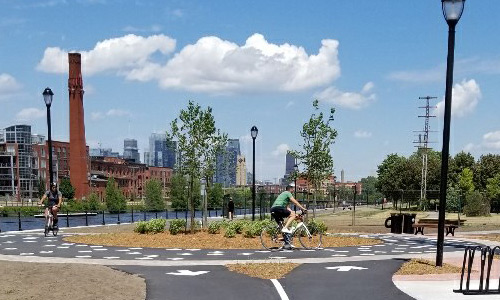 Many pedestrians and cyclists appreciate the fluidity and safety of this new section of the path since its reopening.
Traffic on the cyclo-pedestrian roundabouts follows Transport Québec's traffic rules (French only): slow down, move in a counterclockwise direction, yield to users already in the ring and signal your exits. To prevent confusion, signs and arrows have been added to the pathway.
Looking forward to seeing you there!
Subscribe to our Facebook page to stay up to date with news and events at the Lachine Canal.